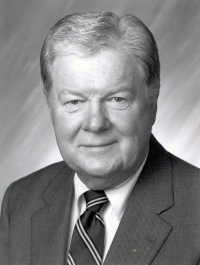 Prominent former Nebraska banker Dale Young died March 1 at the age of 93. 
Young, a lifelong banker, began his career at First National Bank and Trust of Lincoln, starting as a teller. He moved up through the organization, retiring as a senior executive vice president and cashier at the re-named FirsTierBank in 1991. 
Young graduated from the University of Nebraska-Lincoln. A veteran, he served in World War II and the Korean War. 
During his career, Young served on a number of banking-related leadership committees, including the Nebraska Bankers Association executive committee, Lincoln Federal board, and as an arbitrator for the New York Stock Exchange. 
Young was also a community leader, serving on the Lincoln City Council from 1991-98, and then as Lincoln mayor from December 1998 to May 1999. He was president of the Lincoln Chamber of Commerce, president of the Country Club of Lincoln, and was involved with numerous other local and statewide committees.