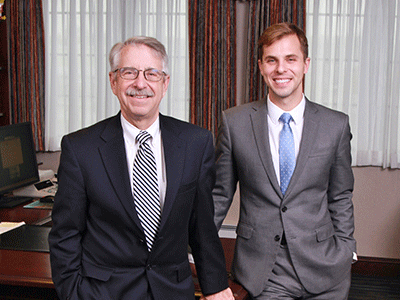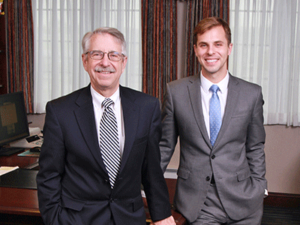 As the fourth generation of his family involved in leadership at Peoples Bank, Munster, Ind., Ben Bochnowski knows he has a responsibility to carry on a proud legacy of excellence almost a century deep. A key part of that work has been putting together a stellar team inside Peoples Bank and fostering the development of qualified banking employees in the broader industry.
Bochnowski, president and CEO of Peoples, is being honored as one of BankBeat magazine's 2020 Rising Stars in Banking.
Growing up, Bochnowski took Saturday trips with his father to check in on customers or visit projects the bank had funded. "I really got to see the impact of what banks could do in the community, and I think that is an important early perspective in my education," he said. Joining the family business in 2010, the 30-year-old Bochnowski didn't initially see it as his final career stop. "But as I began to work more with the management team, I could see the collective impact we were having during a really challenging time," he said.
In the decade since Bochnowski joined the bank, Peoples has grown in many ways, more than doubling its assets to $1.3 billion from $632 million. It added two banks each in Illinois and Indiana through mergers, and switched charters this spring to a state commercial bank. Bochnowski was a key player and takes great pride in those accomplishments, but stressed the importance of building an excellent team with buy-in on the company's commitment to excellence. 
"It's not something that happens because I can do everything so well," he said. "It's because we have a team that really is focused on our mission and our values, and understands how to create value for our shareholders."
As part of that push, Bochnowski set a goal to make American Banker's list of top workplaces. The bank submitted an application outlining its credentials — and didn't make the cut. Bochnowski took the rejection as inspiration to improve what the company offered its employees.The bank surveyed its rank and file and overhauled its compensation and benefits. It also took a hard look at the less tangible aspects of the workplace and increased communication from the top. 
"Looking back, you need to listen and you need to have that humility to fail and have that curiosity to ask, 'Why did we fail and what do we have to do to succeed here?' And I think we were able to do that," Bochnowski said.
Bochnowski isn't just approaching the problem of attracting and retaining qualified staff from one angle, however. He's been instrumental in orchestrating a partnership between the Indiana Bankers Association and Purdue University Northwest to create a commercial banking concentration at the school. Bochnowski stepped up with financial assistance, said Dax Denton, senior vice president of government relations at the IBA, but also recruited an employee of the bank to help craft the program's curriculum requirements to increase the pool of qualified candidates with relevant banking experience.
"A few different things come to mind when I think of Ben," Denton said. "First and foremost I really do think he truly understands and embodies the essence of a community banker."
Denton has worked with Bochnowski during his time with the IBA's Future Leadership Division and on the association's many advocacy efforts. 
Bochnowski brings that thoughtful insight to the membership committee of the American Bankers Association, the IBA board of directors, and, the board of the Indiana Department of Financial Institutions, to which he was appointed last year by Gov. Eric Holcomb.
Bochnowski has encouraged the use of bank resources to help set up a free tax clinic and the creation of a committee to direct giving to local nonprofits. "In his tenure at the bank, he really continues to position the bank to meet the needs of the community that they're in," Denton said.