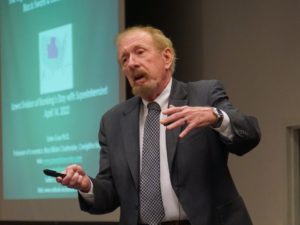 Creighton University Professor Ernie Goss expects the Federal Reserve will steadily trim nearly $5 trillion from its nearly $9 trillion balance sheet.
Goss, Jack A. MacAllister chair in regional economics at Creighton University's Heider College of Business, spoke on April 14 during the Iowa Division of Banking's Day with the Superintendent in West Des Moines, Iowa.
Federal Reserve officials last month announced their plan to shrink the balance sheet by more than $1 trillion a year while "expeditiously raising interest rates," according to Bloomberg. The officials debated larger reductions but chose not to because of Russia's invasion of Ukraine. Bloomberg reported that analysts saw this as evidence that officials worry that they should have acted sooner against inflation and want to increase their main rate, set at 0.25 percent to 0.5 percent, to neutral. The FOMC plans to approve the balance-sheet reduction early next month. 
To Goss, the Federal Reserve Open Market Committee was too slow to raise interest rates after pumping trillions of dollars to support the economy during the early stages of the pandemic. Inflation as measured by the Consumer Price Index reached a four-decade high of 8.5 percent last month. Commodity prices have jumped 20.3 percent over the last 12 months; farm products by nearly 25 percent; metal products by nearly 33 percent; and fuels by nearly 40 percent. Also, supply chain issues have persisted: Omaha, Neb.-based Creighton's March Business Conditions Index, which Goss authors, revealed that seven of 10 supply managers ranked supply chain disruptions as their top threat for this year. Goss expects supply chain challenges will ease and inflation drop to 5.2 percent by the end of this year.  
Goss spent a significant portion of his address criticizing both U.S. tax policy and the Federal Reserve's approach to taming inflation. To Goss, high inflation is not due to Russia's recent invasion of Ukraine, as President Joe Biden has said, but is instead because of pandemic-era stimulus packages passed both by former President Donald Trump and Biden. Biden has said his plan to raise $2.5 trillion of new revenue through taxes on the richest Americans, but Goss expects those increases will eventually trickle down to lower-income taxpayers. 
According to Creighton's Business Conditions Index, supply managers still have a positive employment outlook, and U.S. unemployment remains relatively low at 3.6 percent, according to the Bureau of Labor Statistics. U.S. soybean prices are expected to remain historically high this year due to strong domestic demand and greater desire for renewable diesel capacity. Iowa set a state record for bushel per acre yields. 
Goss said world events could complicate the strong economy. Following Russia's invasion of Ukraine in late February, Goss said Russia's president, Vladimir Putin "is not rational" and instead thinks in terms of an authoritarian. The Russia-Ukraine war has led to key unanswered questions on the impact the conflict will have on global commodities markets — in a typical year, the two countries account for more than one-quarter of global wheat exports. To Goss, the currently strong economy could also be weakened if China decides to invade Taiwan and implements flyovers and blocks shipping ports, a possibility many experts do not see as likely over the next 12 months, according to a poll posted on the Foreign Policy website.