Panora, Iowa-based Guthrie County State Bank awarded Tommy Bates and Abbi Holloway with the Trudy Straub scholarship.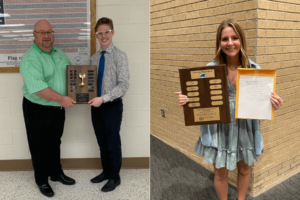 The scholarships, $500 per year over four years for a total of $2,000, are presented each year to an extraordinary senior speech student selected from those who apply. Bates recently graduated from Atwater Cosmos Grove City High School, and Holloway graduated from Panorama High School.
The winners are selected by the respective high school's speech coach and are based on their participation in the speech contest, GPA, the student's attitude and level of cooperation, and a brief letter of intent. The award is named after Straub, a former long-time executive assistant at the Iowa High School Speech Association. 
 "Guthrie County State Bank believes speech and communication, in general, play an important role in the future success of these students — regardless of their chosen profession," the bank stated.   
Bates plans to attend the University of Northern Iowa, Cedar Falls, this fall, majoring in vocal performance and theater. Holloway will also attend UNI this fall, majoring in accounting.