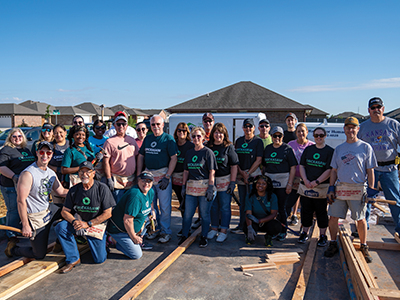 Chickasaw Community Bank has been able to fold its support of the larger community into its goals while keeping an eye to the bottom line. When talking about their work, leadership and staff frequently call CCB "mission driven." 
"As part of our mission, we're really committed to our local community and our community at large," said CEO T.W. Shannon.
Most recently that has meant engaging the team in building a house for the Central Oklahoma Habitat for Humanity. "We provided all the funding for it, and we're going to, as a team, construct a house for a family here in the Oklahoma City area," Shannon said. 
The bank's team of around 30 people work on the project every Thursday. The house's future owner is a single mom with two children, said Ann Felton, CEO of the local Habitat.
A side benefit of the project is that it becomes a great team-building experience for the bank, Felton said; her chapter works with about 7,000 volunteers per year. 
CCB is also one of the top corporate sponsors for OK Messages, a local nonprofit that videotapes incarcerated parents reading books for their children. 
The bank doesn't want to just hand out checks to nonprofit organizations to look good, said Hunter Paul, director of marketing and community involvement; it wants to be involved.
For instance, it partnered with Ed Eason, the lead guitarist for Oklahoma's country superstar Carrie Underwood, on a project called Launchpad stories. The bank directs support to community mentors who are making a difference for people. Stories are documented and shared on YouTube. 
One video featured a woman who had been feeding people after church on Sundays. With the bank's help, she was able to set up a 501(c)3 nonprofit so she could receive donations to help feed more individuals. The Launchpad video helped her connect to people who could design a logo and a mission statement for her new nonprofit.
It's an example of CCB living its mission: "Building Better Lives for Everyone." Yet the bank understands "it's big and broad and hard to build better lives for every single person," Paul said. "We really see that as a destination point for us."