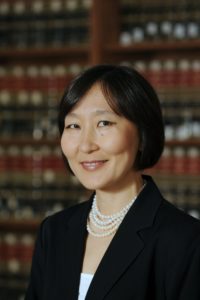 The banking industry is pushing back against President Joe Biden's nomination of noted Wall Street critic Saule Omarova as Comptroller of the Currency.
The Independent Community Bankers of America on Thursday criticized Omarova's nomination for the top banking supervisory role, alleging that her past support for shifting retail banking to the Federal Reserve "would displace locally based community banking and restrict economic growth in local communities." Her "proposed government banking FedAccounts conflict with statements from Fed leaders, who have repeatedly said the Fed is not suited to offer direct accounts to consumers and is not legally permitted to do so," according to the ICBA. 
"Given these and other policy prescriptions, ICBA has questions about Omarova's ability to objectively oversee the national banking system and looks forward to working with policymakers as Congress addresses her nomination," the ICBA added.
The American Bankers Association expressed disapproval of the nomination Friday. "We believe it is incumbent on senators to rigorously examine her views on substantive banking policy issues as they would with any nominee to a position of this importance," said ABA President and CEO Rob Nichols. "We have serious concerns about her ideas for fundamentally restructuring the nation's banking system which remains the most diverse and competitive in the world. Her proposals to effectively nationalize America's community banks, end regulatory tailoring based on risk and eliminate the dual banking system are particularly troubling."
Omarova, a lawyer, is the director of the Program on the Law and Regulation of Financial Institutions and Markets of Cornell's Jack Clarke Institute for the Study and Practice of Business Law. She has expressed support for a National Investment Authority, which would include a "National Infrastructure Bank" and a green-technology-investing "National Management Corporation." As reported by the New York Times, Omarova said the NIA would function similarly to the Fed. 
She supports stronger regulations for cryptocurrencies and fintechs and expressed a desire to completely migrate demand deposit accounts to the Fed's balance sheet last October. For assets, she called for "a comprehensive qualitative restructuring of the Fed's investment portfolio, which would maximize its capacity to channel credit to productive uses in the nation's economy." Omarova said her proposal would "fundamentally alter the operations and systemic footprints of private banks, funds, derivatives dealers and other financial institutions and markets."  
The nomination drew mixed support amongst Congressional Senate Banking Committee members. 
"Her experience as a policymaker, in the private sector, and in academia will allow her to work with stakeholders across our financial system to ensure the economy works for everyone, and to protect our economic recovery from the risky activities of Wall Street and other bad actors," said Sherrod Brown, D-Ohio, chair of the Senate Committee on Banking, Housing and Urban Affairs. 
U.S. Senate Banking Committee Ranking Committee member Pat Toomey, R-Pa., disagreed with Brown's assessment, stating that Omarova "has called for 'radically reshaping the basic architecture and dynamics of modern finance,' including nationalizing retail banking and having the Federal Reserve allocate credit." 
"In light of these, and other extreme leftist ideas, I have serious reservations about her nomination," Toomey said.