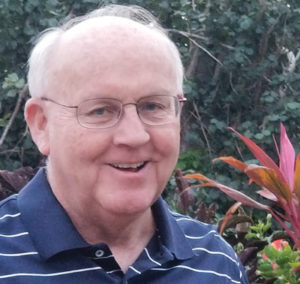 Editor's Note: Bank directors need to be the kind of people who not only know their banks, but also have an eye for the trends and opportunities that will help their banks stay relevant and grow while balancing risk. It's a tough job, and this year's five Amazing Outside Directors have demonstrated their ability to rise to that challenge. This is one of five profiles to be posted on BankBeat. We recognize and thank our Amazing Outside Directors program sponsor Eide Bailly for its support.
When two outgoing directors at Illinois' Pekin Savings Bank approached Pat Oberle about filling their shoes, he was hesitant. It was the mid-1990s and his hands were already full; Oberle was a lawyer in private practice and Pekin's city attorney. Their persistence convinced him though, and Oberle quickly found he had a knack for bank governance.
BankBeat is honoring Oberle as an Amazing Outside Director for 2018 along with four other directors.
In the 1990s, the bank's board was filled with members of Oberle's parents' generation. Over the next decade as those directors stepped down, Oberle's influence grew. Pekin Savings continued to focus on lending money back into Pekin, the seat of Tazewell County. At one point, Gordon Honegger, CEO of nearby Morton Community Bank approached Pekin Savings about an acquisition. The conservative-leaning board rebuffed Honegger's offer.
When Honegger returned in 2005 with another offer, Oberle, vice chair of a board he helped assemble, urged the board to accept.
In a departure from his nine previous acquisitions (conducted in the last 15 years), Honegger opted to retain the directors from the acquired bank, including Oberle. "He was very smart in knowing [Pekin Savings Bank] needed to be upgraded … and we were the way to do that," said Honegger, co-chair of the holding company Hometown Community Bancorp, Inc., of which Morton Community Bank is the sole subsidiary.
Some of the change Honegger referenced stemmed from inexperience. The board Oberle initially joined had made the shift from thrift to bank and then rolled right into the agricultural crisis of the 1980s. It had faced great tests and endured. The board that Oberle led at the time of the acquisition had not gone through such challenges.
"We were much more aggressive than the older guys were," Oberle said. "They had gone through some tough times. … We tried to grow through some strategic planning."
Joining the $120 million savings bank with a $1.1 billion operation certainly qualifies as strategic growth. For Morton Community Bank, the acquisition was an opportunity to finally establish a foothold in the county seat where many of its deposits already originated. After a few more acquisitions, Morton Community Bank now has $3.36 billion in assets. Each of those deals has been marked by core principals Honegger has not wavered from, the same ideals Oberle insisted upon when considering the merger.
"They were employee-oriented, they were customer-oriented, and they made a commitment that they would keep all of our employees," he said. "Gordon believed in growth, in community service, and he believed in making a profit."
Indeed, Honegger said Morton Community Bank has never laid off an employee as part of a merger, establishing a reputation that has led to some banks approaching Morton and Honegger about possible acquisitions.
For Pekin Savings Bank's employees, joining Morton created pathways for growth — both as a bank and as individuals — Oberle says would not have been available otherwise.
Oberle, now 72, has served on multiple boards and committees in the area, including hospital boards, an economic development council and with non-profit organizations. Between those interactions and working with many of his legal clients, he realizes most of those relationships benefit both parties.
"I learn as much from my clients as I think I have provided them in legal services," he said. "Seeing different types of business operations, serving on boards, you are exposed to a lot of opportunities to build relationships with people and learn."
Those lessons are then applied to his duties as a director, be it overall or within one of the four committees on which he serves.
"It's just unbelievable how much he sacrifices for the benefit of the community by way of the bank," Honegger said, noting the hourly charge Oberle could be earning if applying that time to his legal practice. "At one point we figured out he makes $9 per hour with this bank work."