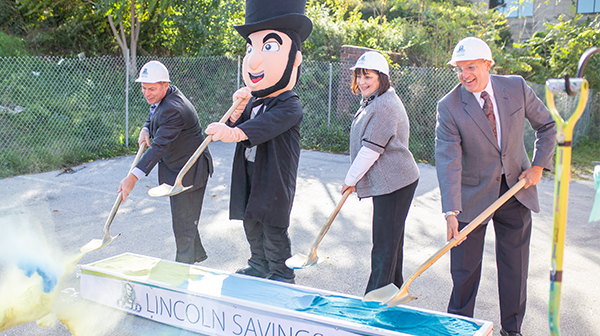 Lincoln Savings Bank broke ground on a new Des Moines office and honored local nonprofits in doing so.
The Cedar Falls, Iowa-based Lincoln Savings invited representatives from four local nonprofits to join bank officials in breaking ground on the building at 1922 Ingersoll Ave.
American Cancer Society, Big Brothers Big Sisters of Central Iowa, Girl Scouts of Greater Iowa and the Special Olympics of Iowa were chosen because of their impact on the community.
"Since our beginning, our core values are firmly rooted in rolling up our sleeves and doing the hard work necessary to serve our clients and communities," said Erik Skovgard, president and CEO of the $1.2 billion bank.
Lincoln Savings hired local artist Amy Wood Thomas to work with the organizations to paint a shovel representing what each does for the community. Each organization was then invited to present their respective shovel to Skovgard. They then posed next to Thomas and Skovgard with their shovels.
"We are most grateful for the support of Lincoln Savings Bank," said BBBS CEO Renee Hardman. "Their generous support allows us to serve not only our current matches, but over 150 young people on the waiting list — eager to be matched with a positive role model and mentor."
"With the support of community partners, we can bring Girl Scouts and the powerful leadership experiences it provides to every girl," said Girl Scouts of Greater Iowa CEO Beth Shelton. "Support like this is necessary for girls to grow stronger, more capable and more confident, and it wouldn't be possible without the generous support of community partners like Lincoln Savings Bank."
The new office is Lincoln Savings' 17th location and will serve as a temporary gallery for the shovels to raise awareness for the four organizations after it opens next summer. After the gallery display, the shovels will be gifted to their respective organizations.
"As we break ground in downtown and Ingersoll communities, we aspire to partner with local leaders to grow and support this community," Skovgard said.