The Social Media Club of Des Moines recognized Bank Iowa with two honors in its 2019 Hashie Awards competition. The nods were a result of social campaigns promoting hometown pride on Snapchat and Facebook the state's second-largest family owned bank deployed in 2018. 
"Something we've noticed as we've engaged with our clients and neighbors on a variety of social channels is that the 'humble brag' often extends beyond how they live to where they live," said Josh Fleming, vice president of marketing at Bank Iowa. "Iowans post pictures of their cities and towns almost as much as their kids and pets. We wanted to celebrate that spirit. So, we challenged our agency to add to the conversation with content that bragged up spaces and events that are distinctly Iowan." 
The first of these campaigns, executed via Snapchat in the fall of last year, received a first-place honor in the competition. The bank designed football-themed Snapchat filters, customized to each community using its school's colors and mascot, alongside subtle Bank Iowa branding. Campaign developers at the bank's agency, Des Moines-based Lessing-Flynn, hoped to achieve 10,000 views. In fact, the campaign earned a whopping 118,000 views. In Humboldt, Iowa, just one of the communities targeted in the Snapchat campaign, the filters earned double as many views as the number of people who live in the city. 
The second of the bank's award-winning social campaigns, which took  home a second-place award, was aimed at reaching Facebook users in the 22 communities served by the bank, many of which are small, with populations as low as 421 people. The goal of the social video campaign, dubbed "Bird's Eye View" in recognition of the signature Bank Iowa bird, was to use drone footage shot by Des Moines motion media studio Red Noise 6 to spotlight otherwise hidden gems in an area of the country with the undue reputation of "fly over country." To boost views, the bank and its agency hosted a content around the aerial drone footage of each of the towns.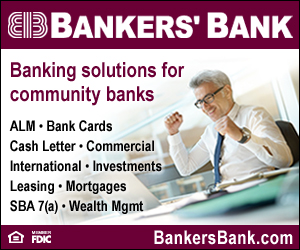 The social videos created numerous compelling online conversations, mainly around how much the towns featured in the footage meant to people, but also around the bank's positive influence on the communities' vitality. As far as quantitative results, the campaign earned average views of more than 8,300 per video and more than 100 shares. The total number of people reached across all videos was 345,303. 
Following the Bird's Eye campaign, the bank donated the unedited drone video footage to local chambers of commerce and other community development groups for use in their own promotional efforts. 
The Hashie awards come on the heels of Bank Iowa's five nominations and three wins in the 2019 American Marketing Association Iowa Chapter NOVA Awards Competition, as well as three bronze honors from the international Telly Awards.