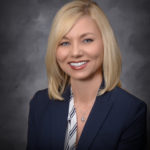 Renate Deininger has been appointed president and CEO of Iowa Trust and Savings Bank, Centerville.
Most recently, she has served as an executive vice president since 2013. She brings more than 35 years of financial services experience and has also served as a member of the bank's board since 2007.
"Renate is a banker who has shown she can assist bank customers in any area of banking. I look forward to the positive impact she will make not only with our customers, but also on our community. Her judgement and experience will prepare for a banking environment that is forever evolving", said Jeffrey T. Young, chairman of the $176 million bank.
A native of Centerville, Deininger is a graduate of Indian Hills Community College, Ottumwa, Iowa, and the American Institute of Banking in Bank Financial Management.
"I am excited to lead the bank's team. I love our community and am looking forward to helping with its continued success. My promise to our customers will be to provide the level of service that has always been our hallmark." Deininger said.
Other officers elected by the board for 2019 include:
Mark Dekker, senior vice president

David Yahnke, senior vice president of lending

Mary Craver, vice president of operations and cashier

Tracy Alexander, vice president of financial services and trust officer

Kathy Kerr, Moravia Branch manager

Whitney Ballanger, assistant vice president of lending

Dustin Harvey, marketing and sales officer

Xaviera Scott, loan officer.