Jenny Provancher has charted a steady course for The Equitable Bank in Wauwatosa, Wis., as it navigated a historical pandemic and a charter transformation. She has done so with an attention to detail and care for staff and customers which is truly exemplary, according to those who have worked with her.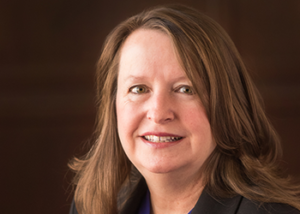 For these and other achievements, the CEO and vice chair of the Milwaukee-area bank, is being recognized as one of BankBeat magazine's 2022 "Outstanding Women in Banking."  
In early 2020, Provancher had her ear attuned to rumblings about a new illness beginning to cause significant concern. A meticulous planner, she pulled out Equitable's disaster preparedness plan and began reviewing it with employees. Contemplating the possibility of remote work, she prompted an order for additional tech equipment before leaving on a trip at the end of February. She returned in early March, just before the wave of pandemic shutdowns and stay-at-home orders began.
"She made sure we were going to keep people safe and we were going to keep the operations going," said Tom Sattler, president of the $319 million bank. "For a bank our size, we didn't have an easy line item to get 40 laptops, but she made it happen." Those twin mandates yielded fruit, as the bank has had two of its most successful years since then.
Provancher's thoughtful, precise leadership was cultivated early, as she carried an accounting degree to several other stops before landing at a subsidiary of Equitable before joining the bank itself.
"I found that my knowledge of finance suited me well in understanding the needs of a financial institution and I came to appreciate the impact a bank has on its community by helping individuals and businesses realize their goals," Provancher said.
She's also been a contributor at the state level, as she currently serves on the board of the Wisconsin Bankers Association, chairing its audit committee. That's given WBA President and CEO Rose Oswald Poels an opportunity to observe her firsthand.
"I always admired her compassion as a leader, and I think that was demonstrated by her care for her staff during the pandemic," she said. Oswald Poels got an up close and personal look at Provancher's handling of Equitable operations during the pandemic when she visited the bank in early 2021. 
That care for Provancher's community extends beyond current staff to potential staff. Provancher led Equitable to participate in the Milwaukee chapter of Bank Work, which offers a rigorous eight-week training program to adults with a high school diploma or GED to prep them for a position on a bank's frontline staff. Equitable has hired several people from the program, and Provancher has been a motivating force.
"I think she is a really huge advocate for the advancement of individuals, including from a broad industry perspective, especially women, minorities and other people from disadvantaged backgrounds," Oswald Poels said.
Internally within the bank, Provancher has also focused on fostering the talent of bankers on her staff, including Sattler, who calls her a phenomenal mentor. Provancher was part of the team which hired him in 2005, and he worked under her directly for a time before she became president in 2019 and CEO in 2020. Sattler was named president earlier this year, crediting his lessons from Provancher in his advancement to the role.
Outside the unique circumstances of the pandemic, Provancher's attention to detail was crucial in guiding Equitable through a number of transformations. Once heavily reliant on CDs, the bank began to diversify its revenue streams under her watch. It switched from a mutual to a stock savings bank in 2019, raising capital with the formation of a new holding company and expanding its commercial lending efforts. 
Provancher saw the change as a continuation of Equitable's almost-century-long legacy of service to the community as well as the best way to ensure it continued that service for decades to come. Founded in 1927, the bank was led by members of the Pittelkow family until Provancher's predecessor became president. 
"She really understood that we can't be competitive if we're not marginally profitable," Sattler said. Provancher understands the importance of tradition and the history of the bank, he said, but she also saw the writing on the wall when it came to what the bank needed to do in order to carry on the family legacy.
The lessons Provancher wants to instill in those she mentors are simple. Demonstrate your abilities, continue to seek knowledge and information, step up when offered responsibility, and be good at what you do, she advises. "Get involved with as many aspects of the bank as possible," she said. "When you see a need at the bank, work with others to continually improve the bank and the customer experience."