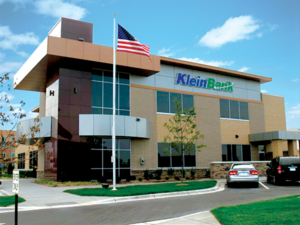 Evansville, Ind.-based Old National Bancorp is beefing up its presence in the Twin Cities with its purchase of Minnesota's KleinBank, for about $434 million in an all-stock transaction.
Based in the southwest Minneapolis suburb of Chaska, KleinBank has $2.0 billion in total assets, $1.1 billion in loans, $1.7 billion in deposits, $184 million in common shareholders' equity and 18 full-service banking locations throughout the metro area.
The deal gives Old National deposits in Minnesota of approximately $3.5 billion, the fifth largest market share position in both the Minneapolis-St. Paul MSA and the state.
"The addition of Klein's powerful retail franchise, as evidenced by their low loan to deposit ratio of 64% and their outstanding business banking and fee-based teams, complement the already-excellent commercial team and strong performance that we have seen to date at our recently completed Anchor Bank partnership," said Bob Jones, chairman and CEO of the $17.5 billion Old National, which closed its acquisition of St. Paul-based Anchor Bank early this year. In 2016, it bought the similarly named but unrelated AnchorBank, based in Madison, Wis.
The merger, expected to close in the fourth quarter, has been unanimously approved by the boards of both Old National and KleinBank's holding company Klein Financial.
Old National expects the acquisition to be 6.2 percent accretive to earnings per common share in 2020, including fully realized cost savings, and 3.4 percent dilutive to tangible book value per share at closing with an earnback period of approximately 3.5 years.
Old National was advised by Keefe, Bruyette and Woods, Inc., a Stifel Company and the law firm of Krieg DeVault LLP.  Klein was advised by Sandler O'Neill + Partners, L.P. and the law firm of Dorsey & Whitney LLP.
KleinBank has had an eventful first half of the year. It recently settled a lawsuit with the Department of Justice over its alleged redlining of minority neighborhoods in the Twin Cities. Earlier in 2018 it sold three branches to a local credit union, and it just named a new president in March.