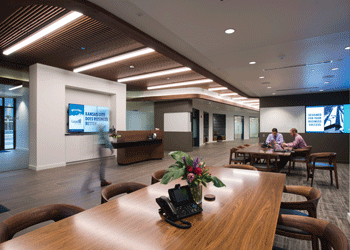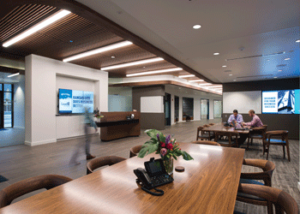 Lead Bank strives to be an innovator in the banking industry in terms of gender diversity and working with traditionally underserved clients, so it shouldn't be a surprise that it also thought outside the usual banker's box when designing its urban Kansas City, Mo., office. 
"Our physical bank looks pretty different than traditional banks do," said Melissa Beltrame, chief marketing officer.
The branch opened in 2015 in renovated space in the city's Crossroads District, a thriving business and arts area. The sophisticated 26,000-square-foot space, designed by Clockwork Architecture + Design, was created with the intention of serving customers differently. Bankers sit at library tables or can join a client in a "mentor booth" equipped with video conferencing capabilities to more easily communicate with bankers in the other branches. Guests can choose self-service, assisted self-service or full service, depending on the transaction. 
Most of the bankers don't have offices. "We've really tried to break down those barriers, so everyone is working side by side," Beltrame said. "It took a little bit of getting used to, but it's really been beneficial, for the bankers as well as our clients and people in the community." 
Four conference rooms are available by reservation for community members. "That's just another way that we're able to, hopefully, better serve folks in the community, not just clients," Beltrame said. 
At first, the space confused customers. Now, everyone who walks in gets a tour to understand how to use the space, and there's an employee designated as a greeter. 
The Crossroads branch also has two drive-through lanes, a walk-up ATM, two electric car-charging stations, and a 2,345-square-foot indoor/outdoor rooftop mezzanine that offers sweeping skyline views.
"[Crossroads] is a great center of entrepreneurship and business activity, an arts district," said CEO Josh Rowland. "It's really lively and there's just so much activity down there."