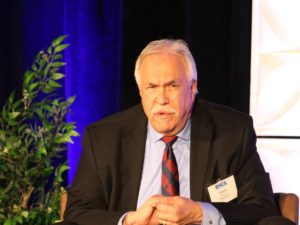 Three longtime leaders of family-held banks discussed the approaches they take to their positions and how they plan to keep their banks running in a panel at the Bank Holding Company Association's Spring Seminar at Omni Viking Lakes Hotel in Eagan, Minn. 
The panel discussion included Rick Wall, CEO of St. Michael, Minn.-based Highland Bank; Doug Farmer of Golden Oak Bancshares, the holding company of Holmen, Wis.-based Park Bank; and David Johnson, president and founder of Big Sioux Financial, Estelline, S.D., the parent company of the $750 million Reliabank. 
All three leaders have decades of experience at their banks. 
Wall's father Fred, a Boston native, initially moved to Minnesota to sell seeds but eventually embarked on a successful real estate career. He and fellow investors bought a St. Michael-based bank, and Fred bought out his partners in 1976. That site remains the $646 million Highland Bank charter location today. Rick, a graduate of the University of Colorado, Boulder, joined Highland Bank in 1994 after spending seven years at Prudential Insurance Co., Newark, N.J. He was elected CEO in 2000 and chair in 2014. 
From the early 2000s to 2012, bank ownership transitioned from Fred to Rick and his two siblings. The three shareholders have weekly phone calls, a tradition that started during the Great Recession as they navigated the impact of the downturn on the bank's mortgage holdings. 
Johnson was only 23 when he became CEO of Reliabank, following the death of his father, Warren. The early years of his tenure came in the midst of the 1980s farm foreclosure crisis. In 2003, Johnson's immediate family purchased the remaining bank stocks from his sister. Today, Johnson's sons are involved with Reliabank: Reid as the marketing director and Ethan as the manager of the bank's approximately $200 million bond portfolio. David, his wife, Jan; and their two sons own Big Sioux Financial.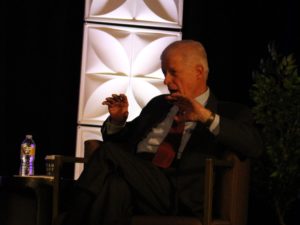 Today, the $750 million, 10-location Reliabank remains ag-focused. The bank originates approximately 500 mortgages per year, mainly in Sioux Falls. Johnson, who plans to retire in 2025, said he can do so with the assurance that his sons will retain their ownership. 
Farmer joined Park Bank in 1981 to run the bank as its youngest employee.  Four decades ago, there were 150 Wisconsin-based banks with fewer assets than the then-$10 million bank. Today, only seven are smaller than $70 million Park Bank, which Farmer deemed "a tragedy of epic proportions."  
Farmer bought the bank from Clark Nixon in 1986 and assumed the role of executive vice president. Originally an ag bank, Farmer noted the bank has since transitioned into focusing on real estate and shifted its focus from rural to suburban markets. Park Bank has three locations in the Coulee Region of western Wisconsin, including in La Crosse, Sparta, and Holmen.
Of the four Farmer boys, three have worked for the bank. Farmer has turned over management of Park Bank to his son, Executive Vice President Morgan Farmer. Morgan and Doug, who live near each other, visit every morning to discuss the business.