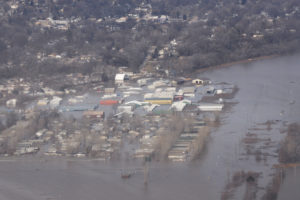 Clean-up has begun in earnest in North Bend, Neb., after floodwaters covered every street in the community, which is located in Dodge County northwest of Omaha. Katy Bode, CEO of Platte Valley Bank in North Bend, reported that water surrounded the entire bank building, but only a very small amount got into the bank.
"We were warned that flooding was likely," Bode said. Bank staff proceeded to fill sandbags, about 200 of them, which were placed at the windows and doors. During the peak of the flooding, the bank closed early so employees could help neighboring businesses protect their operations.
As water rose, North Bend was effectively an island, with both the north/south and east/west highways flooded. "The bank opened each business day with a lighter-than-normal staff," Bode said, "with the remainder of the staff out in the community helping people deal with the flooding."
Platte Valley Bank had off-site materials ready, Bode said, although it turned out the bank didn't need to utilize them. Community banks in the area offered their support, she said.
Kent Kettler, who works at Farmers and Merchants Bank in Ashland, Neb., located at the midway point between Omaha and Lincoln, was himself an island as floodwaters cut him off from returning to his home.
"I was at a charitable event [March 16] when I got an alert to evacuate," Kettler said. Since the Kettlers weren't home, they figured they had already evacuated as much as they could. A week ago, a neighbor put a boat in the water and gave Kettler a ride to see his house. It was safe, but many others were not. "Our home is about three feet higher than our neighbor's, and the water stopped rising about two feet shy of our home," he said. "There are some homes in the area that will be a total loss.
"There was one lake that had a road on the north side of it," Kettler continued. "The road was acting as a barrier keeping the water contained but when the road washed out, it was like a tsunami of water was released across the lake and many of the homes on the south side of the lake were affected."
The water rushed in on a three-foot wave, Kettler said. A housing development that is about 30 to 40 percent completed in an area not thought of as in a floodplain was impacted. "They do not likely have flood insurance," he said.
In response to the historic flooding in Nebraska, the Nebraska Bankers Association established a disaster relief fund. "We are overwhelmed with concern for our fellow Nebraskans suffering from this tragedy," said Richard Baier, NBA president and CEO.
Neb. Gov. Pete Ricketts declared a state of emergency in response to the historic flooding, where 73 counties have been impacted, including five counties where drinking water has been affected. Additionally, 200 miles of highway in the state are impassible. "We've turned in our paperwork for federal disaster declaration and hope that gets processed as quickly as possible," Gov. Ricketts said in an interview, where he estimated livestock losses at $400 million and grain losses at $440 million, initially.
"The cleanup is going to be lengthy," said Bode from her perspective in North Bend. "Damage around the community is significant. Some homes were flooded, and many of those that weren't [flooded] were damaged by backed-up sewage."