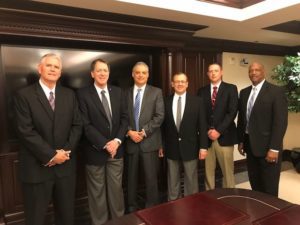 A group of Kentucky banks have banded together to support civic and charitable causes in Madison County.
Nine banks and one credit union with a presence in the county have pledged donations to Madison County Community Fund, a charitable endowment established by local citizens to support civic and charitable causes in Madison County. Community grants to support local causes and projects from the community fund are overseen by a volunteer advisory board composed of Madison County residents.
Each financial institution pledged $1,500 for three years, for a total of $4,500 per bank, equaling a total contribution to the community fund of $45,000. Currently, the fund has assets of more than $170,000.
Those banks are: Central Bank & Trust Co., Lexington, Citizens Guaranty Bank, Richmond; Community Trust Bank, Pikeville; Cumberland Valley National Bank, East Bernstadt; First Southern National Bank, Lancaster; Forcht Bank, Lexington; Kentucky Bank, Paris; Peoples Bank and Trust Company of Madison County, Berea; and 1st Trust Bank, Hazard. Park Community Credit Union, Louisville, also contributed to the nonprofit.
In January, the community fund awarded its first grant to help expand the Too Good for Drugs program in Madison County Schools.
The Madison County Community Fund is an affiliate fund of Blue Grass Community Foundation, which works across central and Appalachia Kentucky to create more generous, vibrant and engaged communities. It also helps individuals, families, businesses, communities and nonprofit organizations establish charitable funds and endowments to support causes they care about.