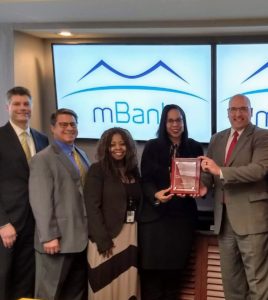 Manistique, Mich.-based mBank was named 2018 Diversity Community Lender of the Year by the Michigan District Office of the Small Business Administration.
The criteria for the Diversity Community Lender of the Year is named based on the support provided by a lender to advance diverse participation among small businesses from historically underrepresented groups – minorities, women, and veterans.
Analysis was based on the number and percentage of total SBA loans that was received by small businesses in these groups. Additional community activities mBank participates in were also considered in the award criteria.
"We appreciate the recognition from the Michigan District Office and for their continued support and efforts to help our organization do what we do best in all our markets and that is help small businesses," said Boris Martysz, senior vice president–commercial banking manager and Marquette County executive. "To be recognized for these efforts is a testament to who we are culturally as an organization and the communities and businesses that we support."
The $1.3 billion mBank has 29 branches in Michigan and northern Wisconsin.
"I'm incredibly proud of our entire commercial lending team for their hard work and dedication to Michigan's small business community," said Kelly W. George, president and CEO of mBank. "Supporting small business growth and job creation is one of the most important things we do as a community bank, especially for these historically underrepresented markets where many of our branches are located.