Mark Meloy, CEO of First Business Bank, Madison, has been elected to serve as the 2019-2020 chair of the Wisconsin Bankers Association.
Meloy joined First Business in 2000 and has held various positions including executive vice president and president of First Business Bank. He is originally from Platteville, Wis., and prior to joining First Business, he served in various positions with Firstar Bank, NA, now U.S. Bank.
He is a graduate of Loras College in Dubuque, Iowa, where he earned a bachelor's degree in Finance, and of the Prochnow Graduate School of Banking at the University of Wisconsin-Madison.
He serves on the boards of the Catholic Diocese of Madison Foundation and Morgridge Center for Public Service at the University of Wisconsin. He previously served on boards or committees of the Oakwood Lutheran Homes Association, Society of St. Vincent de Paul, and Loras College.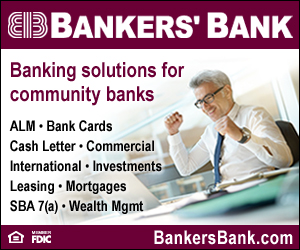 Also serving as officers on the WBA Board are:
Chair-Elect Paul Kohler, president and CEO, Charter Bank, Eau Claire

Vice Chair Ken Thompson, president and CEO of Capitol Bank, Madison

Past Chair Dave Werner, president and CEO of Park Bank, Milwaukee.
Joining the board for three-year terms are:
Al Araque, executive director – market director banking, JPMorgan Chase, New Berlin

Mark Erickson, regional president, MidWestOne Bank, Osceola

Timothy Kotnour, president & CEO, State Bank Financial, La Crosse

Mark Wierman, president, Ixonia Bank.
James Chatterton, president, National Exchange Bank, Fond du Lac was selected to serve the one-year unexpired term left vacant by Thompson's selection as Vice Chair.