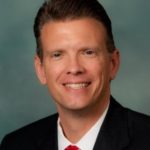 Eric Lemke was named chief financial officer of Midland States Bancorp, Effingham, Ill., and its subsidiary Midland States Bank.
Lemke, a CPA, joined Midland last year as director of assurance and audit. Prior to that, he was CFO of Metropolitan Capital Bancorp, Inc., and Metropolitan Capital Bank & Trust in Chicago.
Previously, he was a partner in the financial services practice of RSM US LLP, having first joined RSM in 1993.  
He has a Bachelor of Science degree in accounting from Olivet Nazarene University, Bourbonnais, Ill., and is a member of the American Institute of Certified Public Accounts. He also serves on the finance committee of the Eastern Illinois Foodbank in Urbana, Ill.
"Eric's previous experience as a partner in the financial services group at RSM and as a bank CFO, coupled with the financial and business acumen he has shown since joining Midland, make him a great choice for this role," said Jeff Ludwig, president and CEO of the $6 billion Midland States. "We are fortunate to have deep bench strength across our internal finance, accounting and audit groups and can fill this important position internally."