With the number and kind of platforms available, bankers can find establishing an effective online presence a little overwhelming. How does a bank create an effective identity and reputation on social media while guarding against its pitfalls? To strike the right tone for a website, you must balance functionality and professionalism with allowing the personality of your bank to shine through. And who is it all for: Customers or employees?
Greg McCurry, senior vice president of business development for NFR Communications, and Tiffany Beitler, NFR's vice president of marketing, recently discussed why it's important for bankers to mind their online presence during a recent On Brand podcast. Following are excerpts from their conversation.
Tiffany Beitler: My clients tell me that establishing an effective online presence can be a little overwhelming sometimes. There are so many different tools, so many different platforms. I just had a conversation with a community banker who would love to increase the bank's presence on social media. They're on LinkedIn now and Facebook, and they're just not sure what the next step is and what content is going to resonate. 
Greg McCurry: I had a similar conversation. When we dug into it, we actually found out they were really hoping to become the employer of choice. They were more concerned about that. They were concerned about the image with potential employees because their growth is through their people; their culture is focused around people. And so they want their image to portray that it's a fun, rewarding place to work. Just like customers, your future employees need this presence. I mean, if I'm looking to change jobs, what am I going to do? I'm probably going to go out and see who else works there. Do I know any of them? I am going to use social media to check these places out.
T.B: We say that everything is based on relationships. I think that flows over into the lenders' social media profiles, too. Take LinkedIn, for example. You share content that customers or prospects find relevant. You're positioning yourself as an expert and showing people that you're staying current with what's happening in the marketplace. Things are crazy right now, so you want someone who has their finger on the pulse of what's happening. 
Showcasing clients success stories if you're a commercial lender is also important. Videos of you with your client talking about what they were able to achieve because of the loan you made is critical. If it's an ag banker, go to the customer's farm, take some pictures, get some quotes about how that banker helped. It needs to be more than "They gave me a loan." It should be: "They walked me through the steps. They helped me gain an edge about what I needed to do to get to this point." It needs to be about showcasing the relationship that commercial lending is built upon.
G.M.: It's top of mind awareness. I may not have a need today. But I may have a need 30 days from now. But if I haven't heard from that lender in 30 days, they're not top of mind anymore. There needs to be a regular cadence of information flowing so that when the time is right, I see the photo of Julie at the community bank which spurs me to remember: "Oh yeah. I need to reach out to Julie" because I was just talking to my significant other last night about needing a new deck.
T.B.: The two important things about adding content anywhere on your website or on social media are that it's consistent and it's relevant to your customers. If you're not updating anything, sharing anything, you've built this website but then you "set it and forget it," Google takes notice. You could see your bank drop in Google search results.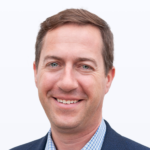 G.M.: By the way, the bank website isn't just a place to get contact information for a loan officer or business hours or to find the nearest ATM. It's a place where people go to transact business. Well, that's a good thing for banks because it's an opportunity for your customers to come back time and time again. Having different messaging and different images and refreshed content is super important because your customers are coming back often. And that leads to a great opportunity to build more awareness about other complementary products and services. And to educate. Some of the best bank websites I've seen have content that is regularly updated and it educates customers.
T.B: There's a Deloitte study I was just reading. It said the reasons people choose a new bank were: They liked the bank's app (47%) or they liked the bank's website (46%). So if that's not a clear sign you need to be keeping content and technology relevant, I don't know what it is.
It's simple. Are you confident that your website is the first and perhaps only impression of your bank?
Everything is online these days. And it used to be that you had control over everything. You could publish great content and you were set. But nowadays, negative reviews can seep in — to your social media, your Google business page, your online reviews. You have to stay on top of these. But you can't just be reactive; you have to be proactive and reactive.
G.M.: I think that's a great point. Bankers are risk averse and can be really scared of that negative review. They worry "what if somebody really roasts us online?" Well, what if you respond in a really great way? You fix their problem. Everybody saw that negativity turned into a positive. That's a huge opportunity. It's like the old adage in life: It's not really what happens to you; it's how you respond. When you give over-the-top customer service to a bad review that comes in through your social channels, it sets the bank up for even more success.
T.B.: I know there's a statistic that if you respond to a bad situation or review in a really positive way, that person who wrote the bad review actually will "like" more than if nothing had happened. As people consider switching banks, they're going to look at the online reviews. And most of the time, if a bank's doing a good job of asking for reviews, nine times out of 10 it's going to be positive. Seeing those reviews can really put the bank in a positive light.
G.M.: The online presence is the first thing people see before they ever step foot into a bank. How many times do you think they're going outside to search? When a person moves to a new area, the first thing they do is head to the Google machine (as my kids call it) and start looking for a local bank. So the online presence is your new lobby. It's your front porch. That's where your image and your brand comes through these days. I think an online presence should be comparative, in investment, to a physical location. Yes, you should have a nice building to convey the brand, and that same level of effort needs to go into the online presence.