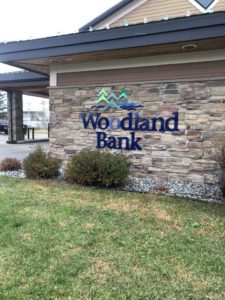 Woodland Bank, Deer River, Minn., is rebranding with its modern philosophy of community banking in mind.
The $104.7 million bank's new tagline is "A New Way to Bank. Since 1920." The tagline is complemented by a campaign based around the slogan "Woodland Bank is Different," which highlights testimonials about how the bank is staying the same by being different.
Woodland Bank was founded in 1920, and has a tradition of focusing on innovation. At the turn of the century when Y2K was a worry for community bankers, Woodland Bank implemented internet banking. Twenty years later, the community bank offers innovative high-interest checking accounts and loan processes. 
At the same time, the bank honors its roots, which were planted in the logging days in northern Minnesota, a feature in bank's new logo. Along with a layered tree design is a new abstract twist: water, which represents the bank's evolving nature. The bank's website address was pruned from woodlandbank.com to woodland.bank
"Throughout our history we evolved to better serve customers' changing financial needs," said Brian Nicklason, president and CEO. "While we celebrate our past, we look forward to our future."