The Independent Community Bankers of Minnesota recognized six bankers with its Legacy of Community Banking Award at its annual convention, held August 9-11 at Mystic Event Center in Prior Lake, Minn. The award recognizes bankers with 50 years or more of service to their institutions and the industry. The 2018 recipients include:
Lowell Wakefield, chair of First Minnesota Bank, Minnetonka. Wakefield's career began in 1960. He worked at several community banks leading up to his purchase of First National Bank of Glencoe in 1981, the precursor to First Minnesota Bank.
Charles Blair, director at First Minnesota Bank, Minnetonka. Blair began his career as a bank examiner in 1966, working for the state of Iowa and the Federal Reserve Bank of Minneapolis. In 1986, Blair joined Independent State Bank of Minnesota, the precursor to United Bankers' Bank, Bloomington, where he stayed until 2007. Blair has since served on the board of First Minnesota Bank.
Faye Hamerl, Border State Bank, Roseau. Hamerl's 50-year career included roles in management, operations, public affairs and internal audit at various companies. She was internal auditor at Border State Bank for 16 years.
Steve Gilmer, State Bank of Delano. Gilmer joined the family bank in 1973, becoming president in 1984 and chair in 2015. Gilmer was recognized as Delano Citizen of the Year in 2010. Gilmer recently sold the bank to CorTrust Bank, Mitchell, S.D.
Dean Peterson, State Bank of Chandler, North Mankato. Peterson started at the bank in 1968. Now retired, Peterson was a lender, internal auditor and managed the bank's insurance agency.
Bill Rosacker, United Bankers' Bank, Bloomington. Rosacker started at Marquette National Bank in 1968, and took the reigns at United Bankers' Bank in 1985. Today, UBB is an $850 million correspondent bank that serves community banks from the Pacific Northwest to the Great Lakes.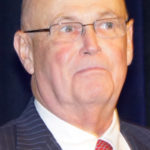 After Rosacker received his award, he said he never thought he'd be in business for 50 years, but that he'd "obtained a lot of love" from the Minnesota banking community. "You are all such tremendous people … everybody here, you people are so important to me. And this business is so important to me as UBB is, because you people are the people who lead this country."
ICBM also elected its slate of 2018-2019 officers at the convention, including Chairman Lon Rylander, president and CEO of First State Bank of Ashby. Other officers are: Chairman Elect Bernie Gaytko, president of First National Bank, Waseca; Vice Chair Al Berube, president of Farmers and Merchants State Bank of New York Mills; Treasurer Anita Drentlaw, president and chief financial officer of New Market Bank, Elko/New Market; and Immediate Past Chairman Scott Wakefield, president of First Minnesota Bank of Mayer.