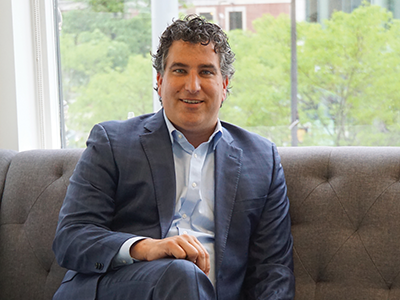 Editor's note: This is part one of a two-part profile of Park Financial Group. Read part two here.
Even in a robust economy, there are credit-worthy borrowers who cannot get a loan for their business or a mortgage to buy a home. David Saber, chair and CEO of Park Financial Group, sees these credit anomalies as opportunities, and with a supportive owner in former hedge fund manager Andy Redleaf, he's building a nimble banking organization capable of doing all of the solid typical deals but also structuring deals that other banks either cannot, or won't make given the time involved in figuring out the appropriate structure.
The organization is also deploying acquisition and investment capital. The results are striking. Park Financial, which was founded as a shell in late 2014 and didn't begin banking operations until it acquired the $34 million Park State Bank in October 2015, closed 2018 with more than $800 million in consolidated assets. Recently, Park State Bank was named by S&P Global as the country's No. 1 performing community bank in the class of institutions under $3 billion, based on its 2018 performance.
For Saber and Redleaf, the approach is entrepreneurial, logical and exhilarating. "It's also a lot of hard work," Saber said.
Springing from 'the platform' 
Saber called the initial Park State Bank purchase in 2015 a platform entry to the banking industry. 
Formerly family-owned, Park State was founded more than a century ago. "Like many small banks in the post-crisis era, its challenges — shareholder liquidity, limited long-term market share growth, and access to capital for lending and investments in technology and talent — were shared by much of the industry," Saber said. "With offices in two of the top five Minnesota MSAs [Minneapolis and Duluth], Park State Bank was an ideal acquisition candidate."
With the help of long-time banker and industry veteran Tom Palmer, Saber led a turn-around that refocused the team on targeting niche opportunities, embraced a high-touch banking focus, and positioned the company to execute on its goals of strategic growth. One year later, the company hired Leann Stessman, (named an Outstanding Woman in Banking by BankBeat magazine in 2016) to focus on the culture piece.
In three years, the Park State team doubled the bank's size, to approximately $58 million in assets, while upping the ante on performance. Its efficiency ratio dropped to the mid-50s, impressive given the size of the institution. The team had put the bank on solid footing. 
The family-owned Pioneer National Bank, also based in Duluth, was at this time looking for an acquisition partner that would ensure customers and employees were cared for while also meeting its shareholder's liquidity expectations. The bank was owned by the Peyton family; its founder, John N. Peyton was chair of the Federal Reserve Bank of Minneapolis during the Great Depression; Peyton helped the industry stabilize in an era of rampant bank failures. The deal "provided an in-market acquisition that made long-term strategic sense," Saber said.
The two institutions were culturally aligned, said Stessman, chief operating officer of Park State Bank. "It was similar to ours, only larger."
"Based on the consolidated financials, the first full year of combined performance was greater than the sum of the parts," said Saber, who credited the team of both organizations for being "extremely focused on understanding the needs of the customers and the market, focusing on loan growth and efficiencies, and building for the long-term."
Schooled in capital plays 
Saber seems predestined to succeed in enterprise banking. He said he's always loved business; after earning a degree in finance and economics, Saber headed to Manhattan to chase his Wall Street dreams. He was a financial markets analyst at the Federal Reserve Bank of New York, and his time coincided in part with former Treasury Secretary Timothy Geithner's years as bank president. Saber said he even played basketball and softball in intra-Fed leagues with Geithner. "I should have paid for the experience," he said of the exposure he received at the Fed and the experiences and global financial market insight he gained while working with the Fed's Markets Group.
Though he expected his next job to carry him to London or Singapore (or anywhere that wasn't the Midwest), Saber ultimately scratched his entrepreneurial itch by returning to Minnesota to join Saber & Associates, the strategic advisory firm founded by his mother, Terry. 
The firm was acquired by top-20 accounting and consulting firm Wipfli, and Saber became the youngest member of Wipfli's Financial Services Practice senior management team; he ultimately led the Strategic Advisory Practice. 
Those post-crisis years "spent in boardrooms and with executive management teams were instructive for the tremendous opportunity to gain insight into hundreds of banks at various asset sizes," Saber explained. 
Saber learned of Redleaf's interest in banking through a mutual acquaintance and said he "could not pass up the unique opportunity to partner with him."
When Saber told his colleagues and others he was leaving to start Park Financial and acquire a small bank, he received little encouragement. Most cautioned him against making what they deemed "the biggest mistake of his life."
"What is the quote? If someone gives you an amazing and potentially once-in-a-lifetime opportunity, you jump in and take it!" Saber said.