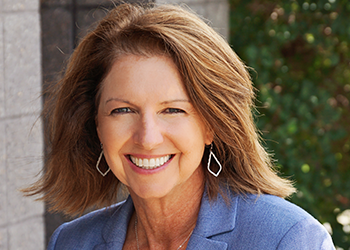 Kathleen Bruegenhemke started her career as an examiner with the FDIC in the midst of the ag crisis of the 1980s, and initially rejected the possibility of a transition into banking. None of the banks she examined in her first year on the job were very profitable, she said. "I didn't see that as a real enticing industry to go into."
A little over three decades later, she's now leading the charge on technology-driven efficiencies and risk management as chief operations officer and chief risk officer at Hawthorn Bank, Jefferson City. Bruegenhemke is also one of several bankers recognized this month by BankBeat magazine as 2020 "Outstanding Women in Banking."
Five years of life as an examiner smoothed out her first impressions of banking profitability as she grew more acquainted with the various departments of the bank. In 1992, she took a job as an internal auditor at what would eventually become Hawthorn Bank. 
"As an examiner, you get to be a Monday morning quarterback, whereas once you're on the banking side of things, your decisions affect customers day in, day out," Bruegenhemke said.
Eventually she became involved with Hawthorn's holding company. When Hawthorn wanted to expand its footprint, Bruegenhemke stepped up to work on its acquisitions, helping guide multiple deals to completion. The bank had always worked with consultants, but wanted someone to serve as an internal voice weighing in on cultural fit, credit risks and possible efficiencies in potential deals. In 2000, she oversaw three acquisitions in one year, a process she compared to parenthood. "When you do a transaction, it's kind of like having a child," she said. "You're with them forever, and their success is your success."
Over the years, Bruegenhemke put a premium on picking up experience wherever new opportunities presented themselves. In 2015, she took a lateral move into a newly vacated market president role despite having no retail experience. "I thought, 'If I can learn more about a different side of this company, then it's going to make me a stronger employee'," Bruegenhemke said. "That's really how I get to be the COO, because I've been in so many different areas in the bank." 
The departing market president took almost the entire book of business with him, causing Bruegenhemke to roll up her sleeves almost immediately. "It really did stretch me in ways that I hadn't been stretched before because it put me in the customer facing seat right away," she said. "You put your boots on the ground and go out and start talking to all of [your customers] and reassuring them that the consistency's there."
She chalks up a great deal of her formative years to the support of Hawthorn's former chair, Don Campbell. He was part of the team which recruited the young examiner to the other side of the desk. "He was a phenomenal mentor to me, and his thoughts still ring in my mind," Bruegenhemke said. "There's no question I am where I am today because he gave me opportunities to excel and stretch and challenge [myself]." She keeps a drawing of Campbell on the wall of her office. 
While he always welcomed her perspective, Campbell didn't go easy on the young Bruegenhemke. He encouraged her to approach her work as though she owned the bank, balancing increased risk with increased reward. Now, as the first female member of the $1.7 billion bank's board of directors, Bruegenhemke is turning her eye to compressed margins even as the bank's risk profile remains relatively unchanged. In today's banking environment, it's increasingly difficult to hit the same profitability metrics even with an unchanged level of risk, she said.
Bruegenhemke sees technology as key to those efforts, both in terms of efficiency and eliminating human errors. Pandemic-motivated social distancing has also accelerated the bank's shift to digital platforms and strategies.There's a bright future for the industry, though, she said. "Banking's a three-legged stool. You have to take care of your customers, you have to take care of your employees and you have to take care of your owners," Bruegenhemke said. "It's a delicate balancing act, but when they're all in sync, it really does work well."