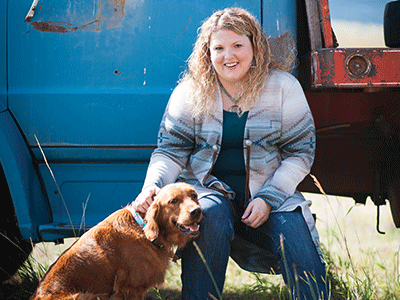 In her day job as vice president and agricultural and commercial loan officer for Bank of the Rockies, Heather Malcolm travels through Montana's Big Sky Country to visit her clients' ranches. She takes calls from ranchers who want to talk through bids.
Yet, it's her after-hours job that gives her a unique understanding about what her clients are facing. Malcolm was raised in a ranching family — her parents owned an Angus ranch in the south Livingston area. And, today, Malcolm is both banker and cattle rancher.
"It gives me quite in-depth insight," Malcolm said. "I understand what goes on at the ranch from beginning to end with a cattle operation, all of the ins and outs … that really helps in my day job."
Malcolm brings a degree in agricultural business and nearly two decades in ag lending experience to her work. She also is involved in the American Bankers Association's Agricultural and Rural Bankers Committee. Currently, she's the vice chair. At the ABA's annual ag conference next month, she will become the second woman ever to chair the committee.
"I really wanted to showcase Montana agriculture on the committee, but also give a little bit different perspective from a female ag lender's perspective, as well as our asset size, as well as the type of agricultural commodities that are prevalent in Montana," Malcolm said.
Women are still a minority in ag lending. Yet, Malcolm said she has witnessed growing numbers of women in the field. Traditionally, men were ag lenders and women were assistants, she said. "That whole mindset in banking has changed and also within agriculture," she said.
"As a female ag lender, we face many challenges," Malcolm added, "yet these challenges pale in comparison to the gratification of assisting customers. We may be in the minority among ag lenders, but we are a driving force."
Malcolm is also one of the younger chairs who've served on the committee, said Ed Elfmann, senior vice president of agricultural and rural banking policy for the ABA. Among her contributions has been an effort to build the next generation of ag bankers, Elfmann said.
The Agriculture and Rural Bankers Committee started a commercial lending school for newer ag bankers. Malcolm is on the advisory board for the school, was instrumental in getting the program started and has worked with staff and instructors to develop the school. It had about 21 participants last year, and Elfmann expects it will grow quite a bit in the future.
"She's never been afraid to get involved, always asking questions, always giving perspective," Elfmann said. "It makes my job a lot easier when I have somebody who is willing to speak up, willing to participate and goes above and beyond all the time."
Malcolm has a comprehensive understanding of how the work of a large trade organization like the ABA can be helpful for banks, he said. Her perspective — including working in a region that has a distinct type of ag business, with mostly ranching rather than large-scale crop farming — is valuable to the ABA, Elfmann said.
A sixth-generation Montanan and cattle rancher, Malcolm owns cattle and ranches just west of Livingston with several family members.
"One of the best things is when you go out to the ranch (of a client) and you can visit about different bulls that they're using or their crops and you really have the knowledge of what you're talking about," Malcolm said. "If you can actually talk the talk and be knowledgeable, you have a much better partnership."
Passion for agriculture
It wasn't always a certainty that Malcolm would become a banker. When she graduated from Montana State University, Bozeman, she considered becoming a 4H agent in Wyoming, then opted to become a farm loan officer trainee with the Farm Service Agency.
After two-and-a-half years with the FSA, including working in Washington, D.C., Malcolm was happy to return home. She's been at Bank of the Rockies for 15 years, further devoting her time to agriculture by mentoring the next generation of ranchers as a 4H leader.
"I really enjoy the local community part of our bank," Malcolm said. "It allows us to be very active in our community."
Founded in 1883, the seven-branch Bank of the Rockies, based in White Sulphur Springs, also has deep agricultural roots. More than 50 percent of its current portfolio is in agriculture, from operating and equipment loans to cattle notes and ag real estate loans. It has $150 million in assets.
"One thing I enjoy … is agriculture and agricultural lending is a large part of our bank," Malcolm said. "Our bank president really understands agriculture and gives us the opportunity to be flexible in our agricultural loans."
That includes loans for beginning farmers and ranchers including through an FSA program.
"It allows us to look at non-typical ag operations, as well as your typical ag operations. Your cow-calf deals, your crops, wheat, barley. We get quite a variety of requests, and that's one of the good parts of the community bank," Malcolm said.
Even before becoming engaged in the ABA's work, Malcolm has always had a keen desire to help people in agricultural industries, said Bank of the Rockies President and CEO Mike Grove, including beginning farmers and ranchers. She is helping to do that through the bank but also in her leadership roles in the Montana Bankers Association and the ABA, he added.
"Her common sense and knowledge make her a good credit officer. She's got a good personality, so she listens well to people's needs and she's not afraid to tell them when there's a time they should be making some improvements," Grove said. "She's more than a banker, she's an advocate not only for the industry but for her customers."
Economic impacts
Malcolm's customers are paying more attention to global economics because of tariffs and trade concerns. It's difficult to say what the impact of tariffs with China will mean for ranchers, though newly opened markets for U.S. beef in the European Union and Japan could offset those concerns, she said.
With lower calf prices this year and last year, "we are seeing tightened budgets," Malcolm said.
To provide ideas, Bank of the Rockies is holding an educational seminar for customers, to cover risk management tools and marketing strategies. An FSA speaker will highlight available government programs.
"Things have changed in the agricultural industry, so I think right now with the lower prices we are seeing a little bit more stress on budgets, but we're working with our customers through that and helping them keep their operations viable," she said. 
Malcolm worked with the ABA on the 2018 Farm Bill to increase FSA-guaranteed loan limits to $1.75 million from $1.4 million. It was important that increases in direct money loans reflect increases in the cost of farming and ranching, Malcolm said.
"The FSA programs are fantastic, but we saw the need to help the FSA get larger loan limits, which in turn helps all the producers in the United States," she said.
It's also important to get on equal footing with Farm Credit, she added, which has $330 billion in assets, fewer regulations and can provide lower interest rates because of its structure.
Other helpful farm bill additions include increases in FSA direct loan limits, changes to Agricultural Risk Coverage and Price Loss Coverage programs and a change to the rural development guaranteed lending program, adding a loan program for rural broadband construction.  
Like farmers are known to be about their crops, Malcolm says she is eternally optimistic about the future of ag banking. Food production will always be an important part of this country, she said, and the farmers and ranchers who supply it will always need financing.
"With ag banking, you really have a relationship with your customer," Malcolm said. "I see that continuing in the future and it being more relationship driven because you do interact with your customer so often."