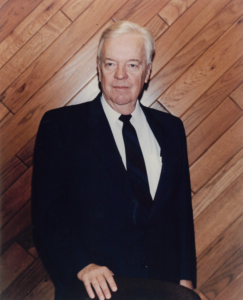 Longtime Midwest banking leader Roy Dinsdale died Dec. 29 at the age of 95. 
Born in Palmer, Neb., Dinsdale and his brother Jack were longtime leaders of what is today Nebraska's $7.35 billion Pinnacle Bank and the $6.3 billion, Fort Collins-based Bank of Colorado. Jack and Roy continued opening banks in rural Nebraska in the coming decades. The brothers' father, George, and uncle, Tom, started Pinnacle as Palmer, Neb.-based State Bank in 1938. The brothers started expanding the family-owned bank in 1959 when they purchased an institution in Neligh, Neb. The brothers would open banks in rural Nebraska communities for decades.   
 Roy was the executive chair of Pinnacle Bancorp, the bank holding company of Lincoln-based Pinnacle Bank. Roy held numerous other leadership positions in his life, including as director of the Federal Reserve Bank of Kansas City, First National Bank in Grand Island, Neb., Guaranty Bank, Denver, and Omaha National Bank. He has been on the executive committees for the Nebraska Bankers Association, Cornhusker Beef Council and the University of Nebraska President's Club. He founded the We Care Fund for active military, and was inducted into the Nebraska Business Hall of Fame in 2003. Three years later, he became a member of the Nebraska Hall of Agriculture Achievement, and, in 2010, both Roy and Jack received the Nebraska College of Business Administration Lifetime Achievement Award. In 2014, Roy was inducted into the Cattle Feeders Hall of Fame. 
Roy's company paid $11.25 million in 2011 to name Lincoln's new sports and entertainment complex as the Pinnacle Bank Arena. The University of Nebraska-Lincoln named a library the Dinsdale Family Learning Commons in honor of Roy and Jack after the Dinsdale family significantly contributed to its renovation. 
Roy's son, Sid Dinsdale, told the Lincoln Journal Star that his father had impacted communities across Nebraska through his work. "He lived a great full life — was so well respected and loved by family, friends and colleagues," he said. "He was a 'goer.' He was a business guy up until he couldn't be anymore."