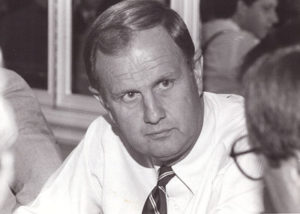 Icon of Nebraska community banking and longtime figure in Washington, D.C., regulatory circles, Andrew C. "Skip" Hove Jr., died in Lincoln, Neb., on August 18. He was 84.
Hove, a banker from Minden, Neb., who was active with the Nebraska Bankers Association and the American Bankers Association, was named vice chair of the Federal Deposit Insurance Corporation in July 1990 after the board was expanded to five people in 1989. 
Like many in the industry, Hove put his name forth for consideration for the newly expanded board and many Nebraska bankers rallied behind his selection, including Kelly Holthus, Tom Olson, Bud Gerhardt and Stan Matzke.  
To secure his position, Hove was interviewed in December 1989 by White House personnel, then FDIC chair William Seidman, and Treasury officials, he said later. By March 1990, Hove had not heard a word about the position. Three months later Hove had decided to withdraw his name from consideration. Before he could make the call, however, Treasury Undersecretary John Robson called Hove to say: "You're the one we want." 
At the time, the 55-year-old Hove was chair and CEO of the $75 million Minden Exchange Bank & Trust Co. He'd worked at the bank, which was run by his father, since 1960. 
Hove called the move to Washington "a great experience" but noted he missed his friends in Minden, at that time a town of 2,700 people. 
Hove was named acting chair in October 1992, after FDIC William Taylor, 53, died from surgery complications. Hove held that post for two years until Ricky Tigert was confirmed as FDIC chair in October 1994.
In June 1997, Hove Jr., was once again called upon to lead the FDIC as acting chair; he served until May 1998 when Donna Tanoue was named FDIC chair.
In a 1994 interview with BankBeat Publisher Tom Bengtson, Hove said he was encouraged by the political process: "It has worked pretty well. We have the most freedom in this country, and the best banks. Although we would all like to see it work a little better, it beats every other system that's ever been tried." Hove also made note of what it was like to testify before Congress, where "Congressmen play 'stump the witness.'"
In that interview, Hove also said of the regulatory agency consolidation ("Nobody would ever design the system we have now"); CRA reform ("I am still naive enough to believe most bankers are trying to do the right thing. If they are, then let's find a way to measure that without bothering them too much); and interstate banking (he did not see interstate banking and branching signaling the end of community banking).
Hove, an academic star at the University of Nebraska, Lincoln, graduated in 1956 with a business degree. After college, Hove flew airplanes and helicopters off of aircraft carriers for the U.S. Navy. Hove served as mayor of Minden from 1974 to 1982. 
In an obituary published by the Omaha World Herald, Hove's son Chris Hove, president and CEO of the Nebraska Bank of Commerce in Lincoln, said his father was dedicated to service and family, especially the 10 grandchildren he doted on. 
Hove is survived by his wife Ellan, three children and 10 grandchildren.