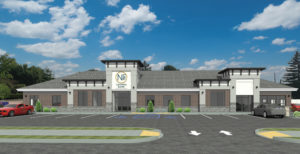 While New Carlisle Federal Savings Bank remains headquartered in the same town after 136 years, the Ohio bank decided it was time to freshen things up.
On August 12, the New Carlisle-based bank broke ground for its fourth location, this one in Springfield, Ohio, a community of about 60,000 — its first branch in almost two decades (it has another branch in Springfield as well as one in Tipp City, Ohio). The nearly $2 million project is using many of the bank's commercial customers, including contractors, subcontractors, and realtor, as a way "to show our appreciation and commitment to the local community," said Brian Smith, president and CEO. 
Smith became president in February 2016 when the bank began the year with $86 million in assets. The bank now stands at over $124 million, a 44 percent increase. "Due to our growth, we felt it was very important to add an additional location that would be convenient for our customers and local residents," Smith said. "The location is a prime spot in town, and our board of directors and officer team were very excited when the property became available." 
The site previously hosted a Key Bank branch. It will be 5,500 square feet, and three to five new employees will be hired. 
It will also be home to a Winans Chocolates and Coffee retail location, which will include a full wine bar and patio. During regular banking business hours, sliding doors will be open between the banking and wine bar space.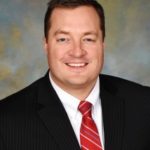 "I believe the added traffic flow from the Winans customers will help bring customers and non-customers into the bank lobby and should help us to grow our deposit base and expand our lending in the area as well," Smith said. "We look forward to working closely with them to offer a one-of-a-kind experience in the market."
Because of the added location, the bank also chose to rebrand this year. "The old name, New Carlisle, only put us in one location, and those in the individual cities didn't realize we had the other branches for convenience," said Jordan Tyler, bank marketing and community development director. In its marketing, the bank is now NCF Savings Bank. It retains its original name for all regulatory purposes.
The bank also added a new tagline: Local. Not Limited. "Being a mutual savings bank, we are truly a community bank with local decision making and management," Smith said. "We wanted to let customers know that just because we are a local bank, it does not mean that we cannot provide nearly all of the same services that larger banks can offer."