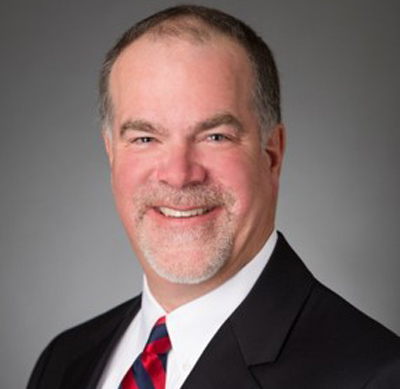 J. Eric Hallman, 57, has been hired as president and CEO of the Nebraska Independent Community Bankers effective Jan. 1, 2019. Hallman will succeed Kurt Yost, who earlier this year had announced his intention to retire from NICB on Dec. 31. Hallman will begin working for the association Oct. 1.
Hallman has extensive professional experience working with community banks. For nearly six years, he worked as a calling officer for the Independent Community Bankers of America as a part of its Members Services team; his territory was the central plains, which includes Nebraska. Prior to joining ICBA, Hallman spent 18 years in sales with Johnston, Iowa-based SHAZAM. In the early 1990s, Hallman worked for the check printing company John H. Harland; prior to that, he was a lender at Kansas State Bank, Ottawa, Kan.
"Eric will bring enthusiasm and energy to job, but more importantly he'll bring the technology piece," said Yost, who has held the top post at NICB since 1984. Yost said Hallman's years with ICBA and Shazam made him a most appealing candidate: "He knows many of our members already, and they know him."
What attracted Hallman to the position was "opportunity and potential" he said. "Working at ICBA covering seven states, I got to see how each state association operated and where the opportunity existed."
"Kurt's stock-and-trade is advocacy," Hallman added. "He's built the association around it." Hallman expects to build on Yost's reputation as a lobbyist by creating a "culture where the logo is a valued brand."
Hallman points to bank membership, business partnerships, and cross-state collaborations with other banking associations as areas of focus. "No. 1 for me is developing our marketing and brand value, all while maintaining advocacy."
Yost has agreed to stay at NICB throughout 2019 to provide Hallman with advocacy services as a consultant, a move Hallman called "good news" given Yost's "Hall of Fame status as a lobbyist."
"I will rely on him heavily throughout 2019 and I would love for him to continue as long as he wants to," Hallman said. "You cannot replace 34 years. You cannot fill those shoes."
With succession in mind, Yost first approached Hallman about the opportunity to join NICB one year ago. "I was obviously extremely flattered and honored that he would consider me a worthy candidate," Hallman said. "I've know Kurt for years, from my Shazam days and when I called on banks in Nebraska."
At the time of Yost's initial contact, Hallman, who lives in Denver, was noodling an opportunity at Elan Financial Services, a unit of U.S. Bank. The Elan job required fewer windshield hours than the ICBA role. "Elan was experiencing some retirements and they painted a pretty good picture," Hallman said. He accepted the position, adding that ICBA gave him its blessing.
Although he joined Elan only in August 2017 to "see if the job had legs," he admitted that NICB was where he ultimately wanted to land. He had to wait the process out, though. "It's what we in sales call the long close," Hallman said.
Hallman has a bachelor's degree in liberal arts from the University of Kansas, Lawrence. He and his wife Shirlee have six children and six (soon to be seven) grandchildren. They have sold their home in Denver and are in the process of moving to Lincoln, where they have already purchased a home.
The native Kansan, while impassioned for Jayhawk basketball, is unconflicted about shifting his allegiance to Cornhuskers football. "The 'huskers shifted to the Big 10 a few years ago so they don't play Kansas any longer," he commented.