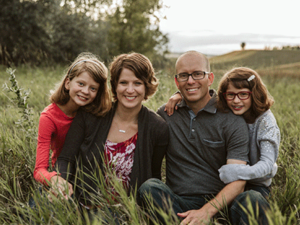 Though Jeremy Skoglund is a North Dakotan, he's always been a Cubs fan. As a baseball player growing up, he played in any position he was needed. "Shortstop, pitcher, catcher — wherever." 
He's taken a similar approach to his career in banking. Skoglund is currently a trust officer at First Western Bank & Trust, Bismarck, N.D., and he's being honored as a 2020 Rising Star in Banking by BankBeat magazine.
"It seems like every couple of years I get a new title or job, though it's not a lot of movement from banks necessarily, just wherever they need me," he said. "I'm always willing to help if I can."
Though Skoglund has learned to pivot and adapt to new roles, the respect he attracts from coworkers is a constant. "Family, community, the bank, bank customers, fellow coworkers all matter greatly to Jeremy," said Ann Reich, senior vice president of strategic partnerships at the North Dakota Bankers Association. "He does it all."
In what became a long and winding road of banking positions, Skoglund launched his career out of college in 2002 as a credit analyst at a small bank in Williston, N.D. At the time, the bank didn't have a website and many employees didn't have email. "It didn't take long before they made me the IT officer," Skoglund said. "I was the young one who had some kind of [tech] background." 
Skoglund worked the roles in tandem, until an agriculture and business loan officer left, and Skoglund was asked to take his place, despite his unfamiliarity with farming. After an awkward year of ag, he moved down the street to American State Bank, also based in Williston, and took on an audit, credit function for a year before the audit manager retired, and, you guessed it, Skoglund was asked to fill the role, where he got thoroughly familiar with the anatomy of banking. "I got to know every part of the bank because we audited everything." 
When the president of the $620 million bank retired and the sitting CFO Dave Hanson took his place, Skoglund, despite not having CPA experience, was asked to fill Hanson's role. "Of course, when opportunities like that come up, you don't say no."
That was Skoglund's favorite job — until he and his wife had two little girls. Neither of their families lived in Williston, and when grandparents, aunts and uncles missed a birthday party because of distance, the couple decided to move for the sake of their 3- and 6-year-old children. 
"That was probably the hardest decision we made," Skoglund said. He and his wife were both thriving professionally. "But we decided for our family that's what we needed to do."
They moved to Bismarck in 2014, where Skoglund took an operations position at Northland Financial (before it was bought by Choice Bank) where he dove into a new arena of the bank as the assistant risk officer. After his experience in audits, he understood the risk side of things, but learning from a management perspective, he said, was invaluable.
After two years at Choice, he moved to his current position as a trust officer at First Western Bank & Trust.
Having been in so many roles, Skoglund adds layers of empathy to his current professional perspective. Having worked as a risk officer, he notices when bankers start to grumble about auditors. "I pick up on that real quick," Skoglund said. "I try to be quick to jump in and say, these are people we pay, and they're on our team."
Skoglund still helps out in every corner at First Western, from risk to marketing to HR, and though he said he's never been captivated by one specific position, he sees himself as a trust officer for a long time. "I get to help people, which is one of my biggest passions."
Skoglund is also involved at the North Dakota Bankers Association, where he was scheduled to become chair of its services board July 1. He led a task force to seek solutions for vendor management for NDBA members in 2019, and has been successful in the association's IT and compliance peer groups. "Jeremy has the qualities we admire in a leader," Reich said. "He's smart, visionary, thoughtful and caring." 
At the Dakota School of Banking, Skoglund has been an assistant director, a director, and an instructor, where he will teach risk management "for as long as they need me I suppose," he said. "I'm just trying to help out there when I can."
Skoglund and his wife still miss Williston six years after the move, but stand by the decision as the right one. "We wanted our girls to know as they pick their career, grow up or have families, that there is more out there than what you say your job title is." Skoglund is currently a trust officer, but it's not the answer he gives when he's asked: What do you do?
"That's my job title, but that's not my highest priority," he said. "What I do is I'm a father, a husband and a friend."