Fifteen years ago, Grand Rapids State Bank crossed the $250 million in asset mark to become the 40th largest bank in Minnesota. Around that time, Noah Wilcox, president, CEO and chair of the bank and its holding company, Wilcox Bancshares, gathered his board for strategic visioning. He anticipated ongoing industry consolidation and wondered how GRSB would grow — or what might happen if it did not. Taking the longview, "I wondered where we'd be in 2012, 2015, 2020," he recounted. From his vantage point in the mid-2000s, Wilcox wasn't able to see the trouble that was about to befall the industry.
A self-described "numbers guy" who as a younger man had been a painter and photographer, Wilcox put his mind to expansion and made an offer to buy a community bank situated as was his, in Minnesota's north woods. "I knew if we didn't do anything, we could be rendered irrelevant," he said.
By 2009, GRSB's assets had slid a bit, down to $236 million; its ranking in the state took a larger dip, down to No. 69. Far more troubling, however, was what was happening to the industry that had supported his family for four generations. His face reddens as he recalls those days, ticking off the regulatory consequences he and his peers have been fighting ever since.
Wilcox withdrew his offer on that other bank to focus on steering his bank through the storm. It was a white-knuckle journey. "I had no idea how the calamity would play out but I knew it would be more than a speed bump," he said.
By 2013, GRSB was holding steady at $236 million and industry prospects had brightened, so Wilcox started to shop around again. Five years ago, he found what he was looking for just west of the Twin Cities metropolitan area — a full 170 miles south of Grand Rapids: Crow River State Bank, chartered in Delano.
"It's probably a good thing we took a pause," he said. "Because I think we learned a few things during the crisis, not only about where we wanted to be but how we wanted to be."
Not an impulse buy
Even before the crisis, Wilcox had approached possible expansion with mathematical precision. He created a "top to bottom, side to side," profile of what he wanted from a target community. Factors included geographic and personal demographics, community characteristics, neighboring communities, right down to the numbers of small businesses operating in the area. His criteria "narrowed the state down pretty damn fast," he said. Proximity to the Twin Cities was not a factor, he added.
As a first-time bank buyer, Wilcox said he had to convince the "small circle" of M&A professionals who put these types of deals together that he was a serious contender. He did this by looking at many banks that didn't fit his criteria. Ultimately, he gave his advisors a printout of what he wanted, saying: "Don't call me with anything else."
When word reached Wilcox that a community banker in Delano was looking for an exit, a meeting was arranged. Lloyd Jerpbak had been one of Crow River State Bank's original organizers but had since become an absentee owner, Wilcox said. The two had never met and Wilcox knew nothing about the bank, yet "the location was enough for me to start the dialogue."  The men had one conversation, which ended with Wilcox making an offer.
"Like every good banker, he thought his bank was worth a whole lot more," Wilcox laughed. He encouraged Jerpbak to market the bank to see if his beliefs had merit.
Once it became public knowledge that Crow River State Bank was for sale, Wilcox submitted another offer, calling it "pretty much the same bid I made at the table.
"We were the only bank invited to do due diligence," he said.
Intentionality with intensity
Wilcox was born in Grand Rapids and though he spent his summers there as a child, he lived in Mound, Minn., with his mother. Consequently, he knew the Crow River market, with its offices in Delano, Mound and Buffalo. "I probably skateboarded through the bank's parking lot," he said.
Partway through a fine arts degree at the University of Minnesota, Wilcox decided he probably didn't have the talent to make it as a professional artist. He took a few months off then transferred into the business school at the University of St. Thomas in St. Paul. There, Wilcox discovered he was good at numbers, especially statistics. "The art background allows me to think differently from my peers about problems," he said.
Wilcox said he never considered joining the family bank even though he sometimes felt immense pressure to do so. "I had to figure out who I was on my own."
He took a job at Wayzata, Minn.-based TCF Financial working in loan production, "working the D paper," he said. "I needed $1 million in new money every month."  
It was a tough culture, but Wilcox hit his numbers month after month and rose through the ranks, first in the Twin Cities, then in Chicago and later in Charlotte, N.C. He kept a burn-out pace until even his high-intensity personality had had enough. His dad, Steve Wilcox, saw his son's departure from TCF as an opening and he invited him north to take on "project work."
It was the "symbiotic relationship between the bank and the community and the focus on the people," Noah Wilcox said, that captivated him after a half-dozen years focused on volume. "Had I not worked at TCF, I wouldn't have appreciated this."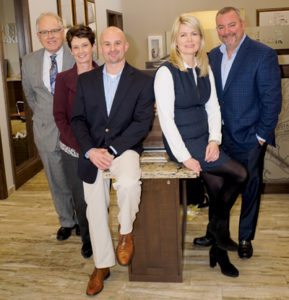 Branded for expansion
Wilcox sees important similarities between Delano/Mound/Buffalo and Grand Rapids. Both have healthy blue collar industries and numerous family-owned businesses. Attracting him to Delano also was the large number of young families drawn to good schools and entry-level housing. It was pure bonus that the renamed Minnesota Lakes Bank provided exposure to the many communities that ring the sprawling Lake Minnetonka, where Wilcox now moors a 35-foot boat bearing the Minnesota Lakes Bank logo.
"We created our name very strategically," said Julie Wilcox, vice president of marketing. Noah Wilcox introduced Julie as "his business partner and his wife," in that order. Julie Wilcox brought ad agency experience into their partnership just as the Crow River deal was coming together. Without plans to roll the acquired bank into the century-old GRSB, the Wilcoxes wanted a name for the Delano bank that communicated local ownership but was generic enough to work in any region of the state where they might decide to expand next.
Nearly five years into his new business in Delano, Wilcox said his team has successfully incorporated GRSB policies and procedures into Minnesota Lakes Bank and transformed a somewhat neglected culture into a collaborative one. Crow River "wasn't in bad shape, but it probably had been undermanaged," Wilcox said.
Angie Heying, chief operations officer who'd joined Crow River only six weeks before Wilcox acquired it, had provided him with critical intelligence at the start, he said. From deal close in September 2014 until well into 2015, Wilcox assumed the president's role himself, while also serving as president, CEO and chair of GRSB and Wilcox Bancshares. "I really couldn't understand through the due diligence process what this organization needed in terms of a president," he said. "I hope to never repeat that ever again because it's an exercise in killing yourself."
John Pohling, whom Wilcox called "extraordinarily patient and positive," served as the bank's first president for roughly two years. That role now belongs to David Krause, formerly of Beacon Bank in Shorewood, which was sold to Grand Forks, N.D.-based Alerus Financial in 2016.
Wilcox's younger brother Nicholas, assistant vice president of operations, joined the bank after the Delano acquisition. He is slowly acquiring ownership and will factor into the company's future, perhaps even in Grand Rapids, where Noah Wilcox said "people expect to see a Wilcox in the bank."
Not so in Delano. Success is "about hiring the right people who embrace our business model who want to be active and known in the community," Wilcox said. The trick to keeping longtime customers through the transition, he said, was being sensitive to why Crow River State Bank was chartered in the first place, by community leaders who didn't like the available banking options. "It's part of our story now and it's a good story to tell."
Of course, the Wilcox family story traverses 100 years in banking, which adds a bit of weight to the shoulders of its 45-year-old leader. It's difficult enough, he said, to be the steward of the family business, to not destroy shareholder value, to not become a disappointment. Added to the weight of carrying that legacy is the addition of Minnesota Lakes Bank. "I'm the one who got us into this," he said. "This whole thing is exceptionally personal because I'm the one who made the decision to make this investment."
Fortunately for Wilcox, the trendline in Delano is heading in the right direction. Minnesota Lakes Bank was at $84 million in assets when Wilcox acquired it; it sits at $99 million today. Assets at GRSB, meanwhile, are at $224 million.
In 10 or 15 years, whenever Wilcox decides to retire, he thinks Minnesota Lakes Bank will be larger than GRSB by a factor of two. If he's correct, he'll have done more than safely shepherd his family's legacy. He'll have written his own.