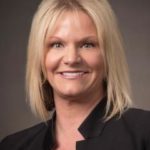 Kevin Anderson was named Wisconsin region CEO and Traci Mann was named Wisconsin region president at Old National Bank, Evansville, Ind. Anderson replaces Len Devaisher who recently left the company.
Anderson joined Old National  in 2013 as corporate relationship manager in the Louisville, Ky., region and was promoted to Milwaukee region president in 2016. Prior to Old National, he was senior vice president, commercial banking manager at Fifth Third Bank in Louisville.  He is a graduate of the University of Kentucky.
Anderson is an active community leader and serves on the board of the Metropolitan Milwaukee Association of Commerce and the United Performing Arts Fund. He is also a member of the Greater Milwaukee Committee.
Mann worked for AnchorBank for 26 years prior to Old National's acquisition of the bank in 2016. She most recently served as market president, commercial banking executive in Madison. She has a bachelor's degree from the University of Wisconsin–Whitewater.
Mann serves on the executive committee for the American Heart Association's Go Red for Women Luncheon, The Madison Club Foundation Board, and Downtown Madison Inc. Economic Development Committee. She also volunteers for the Madison Symphony Orchestra.
"ONB is fortunate to have Kevin Anderson and Traci Mann as such qualified successors with extensive knowledge, experience and proven leadership," said Jim Sandgren, president  and chief operating officer. "I am confident they will continue Old National's strong commitment to clients, community and associates in the Wisconsin region and beyond."