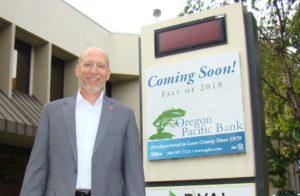 At a time when most banks are looking closely at retrenching their branch networks, a pair of Oregon-chartered community banks have done the opposite.
On the heels of a major hiring spree earlier this year, Oregon Pacific Bank, based in the scenic coastal town of Florence, is making a push eastward – opening a new branch 80 miles away in Eugene that more than doubles the size of its current office and places it in a higher profile and convenient location.
At the same time, three years after opening a branch a few hours away in the fast-growing Central Oregon community of Bend, Eugene-based Summit Bank, has already expanded that branch and doubled the size of its staff.
The moves were both prompted by consolidation that has more than halved the number of community banks that were based in Eugene and Central Oregon.
Oregon Pacific Bank's expansion was part of a long-term plan that was shelved by the Great Recession. However, when Tacoma-based Columbia Banking System acquired Pacific Continental Bank of Eugene last November, it put several experienced bankers in play who were already well-acquainted with the market, reigniting Oregon Pacific's plans.
Oregon Pacific President and CEO Ron Green got to work building relationships with key Pacific Continental staff in the months after the deal was announced. The bank also embarked on a $10.8 million capital raise that closed last November, shortly after Columbia's acquisition, that funded Oregon Pacific's Eugene efforts.
Green was able to recruit 15 former Pacific Continental bankers who started last May.
"The planets kind of aligned," Green said. "I thought we might be hiring two or three people. We were able to bring a team over, so we've been able to hit the ground running."
Within weeks of when the new employees were on board, Green inked a lease on a busy corner lot that most recently housed an Umpqua Bank branch. The new office, at 10,000 square feet, improves upon its existing sixth-floor location in terms of visibility and convenience, with easy parking and a drive-up window, night depository and ATM. The branch is slated to open later this fall and joins Oregon Pacific's other branches in Coos Bay and Roseburg in addition to Florence.
While the branch is better equipped to meet the retail needs of Oregon Pacific's clients, its primary focus will continue to be professional banking.
As for Summit Bank, the Bend area of central Oregon looked ripe for a community bank to enter the market, said President and CEO Craig Wanichek. From 2008 to 2012, the area lost nine community or regional banks that had operated within central Oregon as the area's housing market was one of the hardest hit in the country.
Meanwhile, Summit's leadership was keeping an eye on Bank of the Cascades, a  major player in the market which had been recapitalized by private equity firms during the Great Recession. In 2014, Summit began mapping out its strategy to move into Bend before Bank of Cascades.
"Our idea was to get over there a couple years ahead of any potential disruption by that market leader and establish a foothold as a strong community bank in the market," Wanichek said.
In 2015, Summit held a $2 million capital raise, opened its Bend branch and brought on two local directors. The following year, Billings-based First Interstate BancSystem announced its intent to acquire Bank of the Cascades, a deal that closed in 2017.
Summit tacked on a $6 million capital raise last year. It has since expanded its office and grown its staff to 14 from six. It's also seen deposits grow to $44 million today from $23 million in June 2017.
"We had high expectations, but I think the growth has exceeded our expectations," Wanichek said.