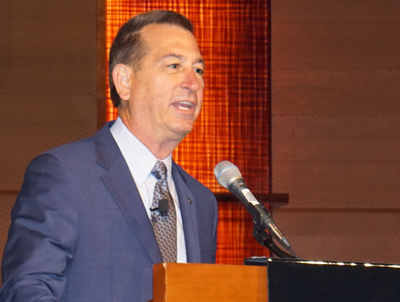 Comptroller of the Currency Joseph  Otting has been named acting director of the Federal Housing Finance Agency upon completion of current director Mel Watt's term on Jan. 6.
"I look forward to serving in this additional role until a permanent director is confirmed and appointed to this important position," Otting said in a statement.
This new role will be in addition to his current role at the OCC.
Watt has been head of the FHFA since 2014. He was appointed by President Obama; he came under scrutiny last summer as reports of harassment made against him surfaced.
The American Banker reports that Mark Calabria, chief economist for Vice President Mike Pence, is the President's choice to serve as permanent FHFA director.
In one year at the OCC, Otting has lead a push for structural efficiencies which has lowered the agency's budget; the OCC has subsequently passed those savings along to regulated institutions in the form of lower exam fees.
"Successfully leading both the Office of the Comptroller of the Currency and the FHFA would not be possible without the quality staff and leadership at both agencies," Otting said. "I look forward to continuing the vital work of the OCC to ensure the federal banking system operates in a safe, sound, and fair manner just as I look forward to leading the FHFA in its important roles overseeing the Federal Home Loan Bank System and conservator of Fannie Mae and Freddie Mac."