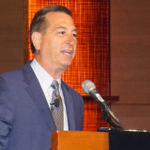 Joseph Otting plans to resign from his position as Comptroller of the Currency. His last day will be May 29.
Otting's plan to leave the Office of the Comptroller of the Currency this week was first reported by The Wall Street Journal reported. A senior OCC official named Thursday as the date of his announcement, American Banker said. Neither story cited a reason for Otting's resignation.
First Deputy and Chief Operating Officer Brian P. Brooks will become Acting Comptroller of the Currency, the OCC said in a statement announcing Otting's resignation Thursday morning.
The move comes amid a push to finish the OCC's proposed rewrite of the Community Reinvestment Act, a stated priority of Otting during his tenure. The agency released its final version of the rule Wednesday.
Otting, a former bank executive, was confirmed to a five-year term as Comptroller in November 2017.
"The agency and the nation are fortunate that the OCC has a deep bench," Otting said. "Brian and the executive committee are extremely well suited to continue the agency's important work and succeed in its mission of ensuring banks operate in a safe, sound, and fair manner."
Brooks joined the OCC from Coinbase, Inc., where he served as chief legal officer since 2018. He also served on the board of Fannie Mae since March 2019 and the board of Avant, Inc.
Prior to Coinbase, Brooks was executive vice president, general counsel, and corporate secretary of Fannie Mae. He was a member of the senior executive management team at OneWest Bank, N.A., as vice chair and chief legal officer. Before OneWest, he was financial services practice group leader and managing partner of the Washington, D.C., office of O'Melveny & Myers LLP.
Brooks has a bachelor's degree from Harvard in government and a law degree from the University of Chicago.