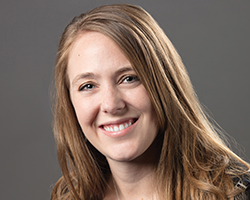 Just before the pandemic struck, Anita Drentlaw began overhauling the culture at New Market Bank. As president and CEO, Drentlaw wanted to develop a commitment to leadership at the $190 million bank, located on the south side of the Twin Cities metro.
Developed by an ex-Marine, the program she implemented at the Elko Market Bank focused on creating a leadership mentality among its graduates rather than situation-specific training. It's helped create a unified culture with buy-in from all participants. "They've all helped create the vision, and they've all gone through the development," said Drentlaw, who is recognized as one of BankBeat's 2021 "Outstanding Women in Banking." This meant rewriting job descriptions, performance goals and the strategic plan.
"We've put a lot of time and energy into leadership development with our officers and senior staff," Drentlaw said. "That's been a huge thing that I've felt very strongly about. And it has really created a very cohesive culture within the bank that is pretty cool to see come together."
That cohesiveness and creating open lines of communication was crucial during the pandemic, particularly in its early days. Balancing remote work positions with those who had to be physically present in the bank required a level of communication and responsiveness previously lacking.
"I think that that did help, too, that there was a really good set of core values that we had prior that we had communicated really well to people," Drentlaw said. "We had a really clear vision of where the bank was going prior to the pandemic that we had communicated well to people. And so those foundations that we had were helpful during that period."
Part of the cultural revamp was a branding assessment and logo redesign, which the New Market Bank leadership team wanted to tie back to its new culture. Since relationships are so important to the family bank, an abstract handshake was worked into the new logo. Including the physical gesture, briefly disallowed by the pandemic, was a topic of board debate initially. Drentlaw and her team quickly dismissed the concern: "We're not changing our vision for a pandemic."
Drentlaw, who has been president of the family bank since 2012, added CEO to her responsibilities earlier this summer, taking over from her father Bob Vogel. She'd been in training for those roles since she joined the company in 2002 as its fourth generation of family leadership. 
Her experience working through the bank's cultural and branding refresh will serve her well at the Independent Community Bankers of Minnesota, where she is the 2021-22 chair. Drentlaw is the second woman to hold the position (Nancy Skophammer was chair in 2011-12), and part of the first father-daughter pair (her father was chair in 1998-99).
Besides the typical slate of leadership responsibilities, Drentlaw and ICBM plan to focus on a rebranding project during her tenure. The project is an opportunity to lay out its 60 years of history and examine what's worked well in the past and what needs to be changed going forward, said ICBM President and CEO Jim Amundson: "She's going to be a strong leader in that process, not only as chair, but as a committed member to what we do."
"That is exciting to me, making sure that our brand is well-known, not only in the industry, but also to community members and customers," Drentlaw said. "What can we do, from an association standpoint, to help our members gain more customers and be more well-known in the communities that they serve?" 
Drentlaw spent time at the beginning of her career doing some accounting work for the organization, so she brings not only a wealth of banking knowledge, but a deep familiarity with ICBM history as well.
"It was evident to me Anita was a strong community leader, a strong banker, and I thought it would be a great opportunity to have her come on and join the executive committee," Amundson said. "We'll have to find other ways to keep her involved."