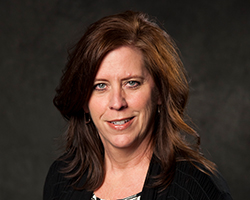 When the Cambridge, Neb., branch of First Central Bank McCook caught fire early one Sunday morning in June 2016, it could have turned into a crippling event. Instead, up stepped branch president Tammy Sexton, who promptly dug into the to-do list getting a temporary branch set up. That facility, initially held in a community center meeting room, was up and running by Monday afternoon, less than 48 hours after the start of the fire. Sexton's leadership was crucial, both in the immediate aftermath and in the two following years as First Central constructed its replacement, said Don Moore, president of the $122 First Central Bank McCook, Neb.
Sexton is being recognized as one of BankBeat's 2021 "Outstanding Women in Banking."
"Few people are as valuable as Tammy to our bank," Moore said.
Besides dealing with the aftermath of the branch's fiery destruction, Sexton also stepped up last year to help lead the bank's pandemic response team. As requirements and information changed rapidly in the early days of Covid-19, she sprang into action. Specific personnel and safety plans were tailored to individual branch and community needs. While the immediate days of the crisis have passed, Sexton continues to meet and monitor changes as the industry shifts to its new normal. 
"For small community banks especially, it's important, as we come out of this, to work hard to maintain your relationship with customers because I think that's what makes community banking different," she said. "As they transitioned to more electronic usage, you don't interact with them as much. So I think every human interaction is more important than it ever was before." 
Sexton's crisis response chops haven't just benefitted the bank. In the fall of 2010, mid-size retailer Duckwalls announced it would be closing its store in the town of about 1,000 people. At the time, Sexton sat on the town's economic development board. She and other board members tried to drum up a replacement tenant for the building but didn't find any takers. That's when Sexton suggested starting their own store.
An initial investment meeting to gauge community interest drew more than 200 people, and ultimately more than 120 people would invest a total of $263,000 in the company behind the Cambridge General Store, most in amounts of $500 or $1,000 each, according to a Nebraska Public Media story on its creation. The Duckwalls manager stayed on, and the switch to local ownership meant a change in which products were stocked, cutting out a 25-mile trip to neighboring McCook for some patrons. 
Sexton remains deeply involved with the General Store — she's currently president of its board — and she recently helped celebrate its 10-year anniversary. "As a community, we were not going to accept having that gap in our town," she said. "I'm involved in a lot of the aspects of keeping the store going. It's my little side passion."
The way the town came together to resurrect the store was emblematic of the importance of community, Sexton said. Teamwork and camaraderie made residents pull together for something that would benefit everyone. Her experience with the General Store and the reaction to the fire is no different from the daily operations of the bank, just scaled a bit to match the gravity of the situation.
Sexton didn't intend to make her career in banking. She initially took a teller role once her children reached school-age. Once there, however, she became a keystone of bank functions, stepping up to help with everything from navigating an acquisition to mundane HR issues. She's taken inspiration from her somewhat unintentional career path, however, and offers encouragement to bankers who find themselves in challenging situations.
"Don't let the single events define you," she said. "Never be afraid to ask questions and learn the why of what you're being asked to do. Always be open and accepting of change and [the] opportunities they present because you never know where it will lead you."