Growing up in a large family instilled in Mary Williams a great sense of responsibility. As the third-born of 12 children raised on a Winsted, Minn., farm, "we took care of our own," Williams explained. As the 58-year-old executive vice president and chief operating officer at Bloomington, Minn.-based United Bankers' Bank reflects on a nearly 40-year career, she says it has been the relationships she's built with coworkers, past and present, that she considers to be her greatest accomplishment. Taking care of her team and her customers  — as if they were blood relations — that's been where she's found the most meaning.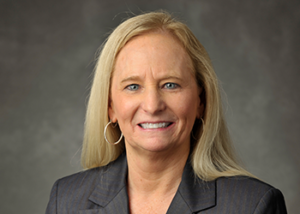 Williams is being recognized by BankBeat as a 2022 "Outstanding Woman in Banking." 
In addition to managing Operational Services for "the nation's first" bankers' bank, Williams has, since 2018, been part of the bank's seven-person executive team. That top rung on her career ladder, offered to her by former UBB president Bill Rosacker, wasn't something she immediately leapt at. "I asked if I could think about it," Williams recalled. "And he said, 'What's there to think about?'"
She'd been mentored and well-prepared to take the lead from the retiring Anne Hofstede, but there hadn't been anyone coming up immediately behind Williams in that critical No. 2 spot. And it was a worry: She was thinking about the impact to her team, of taking on the new job while holding the old one. Leadership is hard enough. But just as she has her peoples' backs, they have hers.
Williams easily directs credit for what she's achieved to her team and the department's operations managers. "It's never one person," Williams clarifies. "Operations is a busy area and touches a lot of different departments. We have the longest hours, take the most calls and can have the biggest challenges to keep things running. Being able to support and manage these activities isn't done by one person; it's always been a team."
Williams is right about operations touching all departments, including sales. Dwight Larsen, president and CEO, considers Williams to be the sales team's "closer," getting customers to work with UBB. "Mary remains a 'go-to' person for many community bankers on operations and payments issues," Larsen wrote in his nomination.
Williams said she's been effective at selling operational services because of her extensive background. She joined UBB in 2007 as vice president of operations to lead its Check 21 initiative. Before that she worked for the Community Bank Group, which owned a number of banks in east central Minnesota and along the Minnesota River Valley. She led operations at the holding company level, and was critical to its success with branch acquisitions and core conversions. It was complex work; she visited each bank in the system frequently, building up those teams who kept things whirring behind the scenes. So many hours away from blood meant she shifted her focus to building up that workplace family. 
For years there had been growth but in 2006 came divestiture. Community Bank Minnesota Valley branches were sold to Redwood Financial. The remaining offices became Flagship Bank Minnesota, with headquarters moved to Wayzata. 
It had been a bank colleague (now retired), who encouraged her to look at the operations position open at UBB. "He called me into his office one day and said 'you need to apply for this job'," Williams recounted. 
"Are you trying to get rid of me?" she asked him. They shared a laugh at the absurdity.
"You are meant for bigger things," he told her.
UBB customers and prospective customers are now the beneficiaries of Williams' vast experience. "Having held a lot of positions at banks and knowing the ins and outs of operations teams, I can walk them through the details of their processes with UBB and alleviate their fears," Williams said. "I tell them it's never as bad as a core conversion." 
It's credibility borne of experience, and it matters because of what's at stake.
Williams also leads UBB's Instant Payments Initiative, Larsen wrote, "readying UBB and our nearly 1,000 bank customers for FedNow, the new faster payments rail. She's playing a leading role representing not only UBB, but also collaborating with many of the other bankers banks in dealing with the Federal Reserve Bank and vendors. This includes providing input about system capabilities, funding options, and other activities related to 24/7/365 payments."
"Here again, it's not on my own," deflected Williams, sharing credit with Paul Rogers, who came to UBB from the Federal Reserve 11 years ago. Rogers has been her strategy point person for the last four years on instant payments, she said. "He does a fantastic job. He has been instrumental."
Because she's collaborative and craves office interactions, Williams admits that hybrid and remote work arrangements preferred since the onset of the pandemic have challenged her. "I want to walk around the office and see peoples' faces," she said, even though flexibility has long been part of covering early morning and late-in-the-day shifts in operations. But before she could embrace a fully remote workforce, "my eyes had to be opened," she said.
That happened about the time Williams' three granddaughters, whom she called "the best part of my life," moved from Minnesota to Kentucky. That same month Williams finally hired that all-important second-in-command. (It had been four years without a 
No. 2.) Alan McLean joined UBB as senior vice president of operations in August. McLean lives and works in Alabama. "I never would have expected to do this," Williams said. "My kids moving made me realize I need to be flexible."