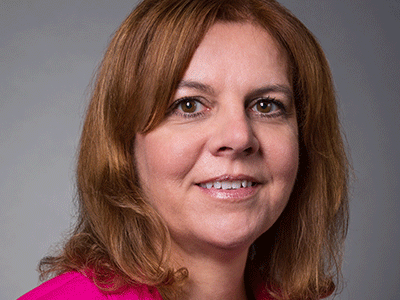 Tina Giorgio is forward thinking and she's a hockey nut. She uses past events as fuel for future challenges, and she scrapes her employees' cars on especially snowy winter days. 
 She's also been the ICBA Bancard president and CEO since 2016, and was a community banker (at three institutions in Maryland) for 30 years before that. She's had her skates on the ice in multiple arenas of community banking — ranging from payments, marketing, payments, vendor management, payments, and pretty much anything that wasn't lending or in a branch, Giorgio said. "But my background is pretty much payments my whole career."
It's safe to say she notoriously knows her stuff. In fact, she wasn't looking for a career switch when an ICBA Bancard recruiter, Bruce Kershner, reached out to her about the CEO position. "He had made some phone calls and according to him, a number of people had mentioned me as someone to consider," Giorgio said.
The Bancard CEO is reputedly down to earth, not hung up on titles, and is often greeted by a hug from her receptionist. 
"I try and pay attention to people and to listen," Giorgio said. Her authenticity earns trust among peers and co-workers, and allows her to speak her mind with conviction. This only gets her in trouble, "all the time," she said, laughing. "No, seriously."
"What you see is what you get," Marlene Wagner, director of business development at ICBA Bancard, piped in from the corner of the phone conversation. 
Giorgio is a believer in leading by example and learning from others. Some of her most defining leadership qualities came from the examples set by role models such as Ruth Bader Ginsburg and Nelson Mandela. "Everything they did was not about themselves, it was about making things better for others," Giorgio said.
"[Ginsberg] believed in rights for everybody," Giorgio said. "If she felt that someone was not being given their rights under the constitution, she fought for them."
Giorgio held these values in tow when the Durbin amendment was being considered in 2010. "I tried to show the unintended consequences of implementing the Durbin amendment and the harm it could have on community banks." 
Giorgio has served on boards and committees throughout the industry from the Federal Reserve to NACHA, "to be that community bank voice and advocate for the industry to make sure that we don't get lost in the innovation and the advancements that go on," she said.
Time and time again Giorgio said she's heard that there are only going to be a few large banks left in the United States and the future of community banks is imminently doomed, "but I don't buy it for a second."
Historically, the challenge to applying digital innovations in community banks has been integration, Giorgio said, "but because of the open API and all of the solutions going digital first, it makes it easier to connect the various systems together and integrate their solutions."
By the year 2023, the U.S. digital payments market will be an estimated $1.3 trillion. This critical shift in the industry, and what it means for small and medium businesses, provides huge opportunities for community banks.
Community banks have stood the test of time serving in rural markets, Giorgio said, supporting the local economy, and bringing banking services to where they're most needed. "Community banks serve underserved communities," she said.
So are we at a point in time where technology is becoming more affordable and easier to implement for community banks? "Yeah, I think they can," Giorgio said. "The community banks that have put this into action all have one thing in common. They developed a customer-first digital strategy."
Community bankers are customer-focused, right? "We like to interact with our clients, and are very much about our communities," Giorgio said. "So marrying that to the technology in creating high-tech, high-touch relationships with customers is where community banks can and will succeed."
And as Giorgio has learned and continues to learn from others, she hopes to lead by the same example others have set for her. "I hope I can inspire future leaders and motivate a new generation of bankers." 
Giorgio works closely with and serves as a mentor for ICBA's ThinkTECH Accelerator program, which brings in start-up or early-stage fintech companies that are specifically focused on serving the needs of community banks. "I hope to continue to innovate and deliver products, services and education to community banks so they can continue to thrive," she said.
When Giorgio mentors, she doesn't just give advice, said Har Rai Khalsa, CEO of the fintech company MK Decision, which was one of the start-up companies at the 2019 ThinkTECH Accelerator event. Giorgio mentors in a lateral and practical way, through third-party partnerships, client referrals and helping clients plan their strategic vision. 
And Giorgio goes out of her way to solidify not just the partnership, but the relationship. "The other side of being a mentor beyond strategic planning and partnerships is the care that she gives people," Khalsa said.
The two ran into each other at a Money/2020 conference at the end of October, and Giorgio took time to sit down over lunch and check in with the budding entrepreneur and plan for the future. The impact of the two's relationship offered the connections necessary for MK Decision to rapidly get into the market over the past six months. "She's helped us acquire more than 15 new bank clients," Khalsa said. "It's really remarkable how she's been able to put her weight behind MK Decision and help us succeed."
Khalsa is a self-proclaimed "mama's boy," and grew up with a mom who advocated for women's leadership and opportunities in both western and eastern society. "To see Tina speaking about being the woman in the room was very inspiring."
The digital payments guru, and a mother herself, has learned to see obstacles as opportunities, and not just by navigating the dynamic digital landscape. 
Fifteen years ago, waking up each morning wasn't always a guarantee. As the senior vice president and director of vendor management at Sandy Spring Bank, Olney, M.D., Giorgio was diagnosed with Crohn's disease. "That certainly changes your perspective on things," she said. "As a mother with two small children, I was imagining them growing up without me."
Eventually, young people diagnosed with the disease began calling Giorgio to talk through their situation. She began appreciating the people around her, especially her community at Sandy Spring Bank. "That's when I think I appreciated truly working at a community bank. They were so flexible and supportive when I was so sick," Giorgio said. "They were there with me the whole time." 
In banking and in life, Giorgio lives by the importance of skating where the puck is going, learning the value of being progressive and forward-thinking. Given the pace of life and of industry changes, "if we spend our time looking in the rear-view mirror, you can't see what's ahead," she said.