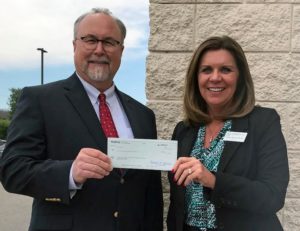 An Ohio community college got a scholarship boost recently from Peoples Bank, which donated $12,000 to the Washington State Community College Foundation.
The contribution will allow five $1,000 scholarships to be awarded in 2019, with the remainder of the donation applied toward the scholarship's endowment at the Marietta, Ohio, college.
"At Peoples Bank, we realize the value of a quality education and partnering with WSCC to help provide financial support to our future community leaders helps us to make the Mid-Ohio Valley a better place to live," said Shawn Taylor, vice president of commercial banking.
The Peoples Bank Scholarship, created in 2005, was established to provide support to first-year students who demonstrate financial need.
"Washington State values our longstanding partnership with Peoples Bank," said Vicky Wood, WSCC president. "Our institutions ultimately share the same goal of making the Mid-Ohio Valley a great place to live and work. We are appreciative that Peoples Bank recognizes the value of investing in our students and providing greater opportunities for their continued success."
Eligibility requirements include graduating from a high school in Washington or Morgan counties, enrollment in a degree program and good academic standing with a minimum 2.5 grade-point average.
The Marietta-based Peoples Bank has $4 billion in assets and offices in Ohio, Kentucky and West Virginia.