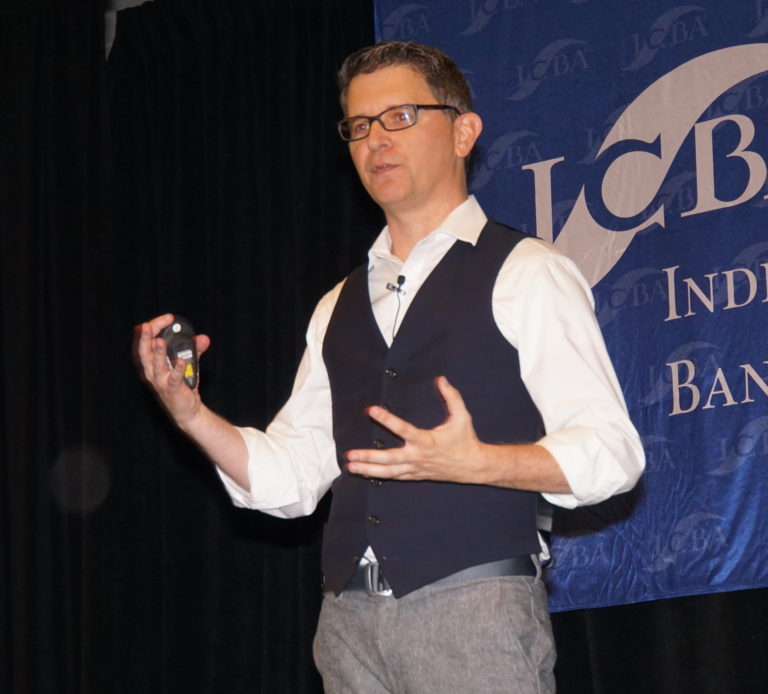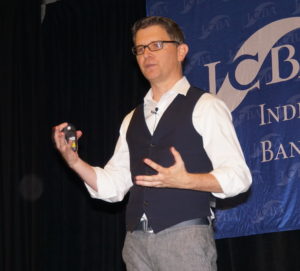 The problem with community banks, according to a much criticized article in the Wall Street Journal, is that their ability to deliver the tech tools customers supposedly want pales when compared to the nation's largest banks. And though core providers and fintech startups scramble to deliver feature after feature as bankers try to compete, it's a race community bankers not only cannot win but should not even be running.
Community bankers instead ought to focus on delivering the best digital at the moment of a customer's greatest need. "Anything more and you detract from the personal," said Lee Wetherington, director of strategic insights for Jack Henry & Associates, who delivered a tech-focused keynote at the kickoff off ICBA Live, the annual convention of the Independent Community Bankers of America, underway this week in Nashville.
Wetherington's address served as an entree for ICBA to introduce the eight finalists of its ThinkTECH Accelerator program. 
The belief that technology is the be-all and end-all of service delivery has become something of a trap. "The goal of fintech is to improve the customer experience," Wetherington said, adding that the No. 1 objective for community bankers with technology is to find that middle place between no tech tools at all, and a total tech experience that removes human interaction. "You want to automate," but don't copy the lead of the big banks, which are in the process of "bot-omation." 
"You will cut your own heart out if you bot-omize too much," Wetherington said. "Technology is supposed to minimize the mundane in order to maximize the meaningful." Where the opportunity lies is in differentiation, especially as digital banking becomes standardized and commoditized. "There are things that can be automated that you should not automate," he said. "Remember, the base unit of community banking is the relationship between two real people."
That's especially critical when people are in a financial crisis. And with some 70 percent of Americans living paycheck to paycheck, a crisis can be something as simple as a broken car. Distressed customers will never appreciate being forced to interact with a bot, he said. 
ICBA's ThinkTECH Accelerator program kicked off at the end of October with 190 companies filing applications to participate, said Kevin Tweddle, ICBA's chief operating officer. The goal of the program is to educate community bankers, foster collaboration between tech entrepreneurs, industry subject matter experts and regulators, and accelerate solutions geared to the specific needs of the community financial institution. At the end of the program, the eight finalists were each given eight minutes to present on their products and bankers were invited to reach out to receive demos.