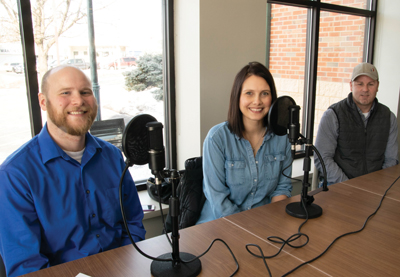 In southeastern Wisconsin, residents of Racine and Kenosha can tune in to hear about a fundraiser to build a concession stand at a local school's baseball fields. They can catch an interview with a leader from the Small Business Development Center. Or they can learn about changes at the area humane society.
The information isn't so different from what you might get from a local newspaper, but the source is unexpected.
Community State Bank, a mostly employee-owned enterprise with $390 million in assets, has its own podcast, which can be found on its website or through the host Podbean.com.
Though podcasts on everything from sports to true crime are popular, and some of the larger banks do have them, they're not yet standard among community banks. 
For those that do invest in the time or equipment, including Community State Bank and northeastern Wisconsin's Investors Community Bank, they're finding this marketing channel is a way to build relationships, answer topical questions and fill a need. (Here are 10 banking podcasts to try to get a feel for what's available.)
"From a product standpoint, we all do a lot of the same things," said Greg Wall, chief innovation officer for Community State Bank. "One of the ways that we're different as a community bank is that we invest our time and our talents and our resources into our communities to make them better places to live and work.
"The podcasts allow us to continue telling that story in a different way to maybe other people," Wall continued. "It's a way to show those kinds of values in action."
Community State Bank may have been ahead of its time, Wall said. It started podcasting about four and a half years ago, after bank President and CEO Scott Huedepohl suggested it.
Wall and Communications Coordinator Ellie Heigl found a host, bought the equipment — four condenser microphones with pop filters and stands, a mixer and audio software — for less than $2,000, Wall estimates. They started with topics such as municipal leasing and retail data breaches before shifting into more popular community-focused ideas.
"There weren't a lot of people listening, but we kept at it and we decided it was something we were going to continue to do," Wall said.
A stronger focus on social media platforms by the bank's marketing team in the past 18 months has increased the podcast's engagement. They don't record on a schedule, just whenever an idea strikes, producing about 35 podcasts since late 2014.
Listener count for all of those episodes is roughly 5,000, Wall said, citing Podbean statistics.
The bank's equipment is mobile, so they can record podcasts onsite or out in the community. Ideas come from bank staff and local residents; interviewers vary, as do their guests. Once recorded, marketing staff edits the pieces, puts them on Podbean and promotes them on social media. Ongoing costs are the software subscription and a nominal monthly fee for the host site. The biggest expense is staff time.
"Podcasts are just another great piece of community content that we're able to get out there and get people the Community State Bank message," Wall said.
Know your goals
Important considerations for a community bank considering offering its own podcast are to think about its audience and what they care about, said Megan Effertz, a marketing professional with her own podcast. Effertz was recently hired as chief experience officer for Village Bank which is based in Saint Francis, Minn.
Is the demographic moms who want to figure out how to teach their kids to save? Is it grown kids trying to figure out financially how to care for aging parents?
"It's just understanding what are the questions that these people care about, so that it's information that's valuable for them," Effertz said. "Time's at a premium for everybody, so what's in it for them, why does it matter?"
Effertz began familiarizing herself with podcasts when she was the executive editor at the now defunct Minnesota Business magazine. She later immersed herself in the new media when she started her own podcast, "The Business Gist." It delves into topics showcasing the "human side of the bottom line."
Though Village Bank doesn't currently have a podcast, Effertz is planning one.
"I think as we're really looking at what's community banking, it's not just about having a branch in a community," Effertz said. "It's about how do you connect with your community wherever they are."
Effertz wrote about developing a podcast in the story, "To podcast or not podcast," on LinkedIn. In it, she suggests deciding the purpose of your podcast, knowing your audience, determining length and frequency, planning promotion and knowing your goals.
She quotes Edison Research's "The Infinite Dial 2018" study about the growing popularity of podcasts. New results released in early March by Edison Research show even more growth. About 50 percent of all people ages 12 and older have listened to at least one podcast. About one-third of people — or 90 million — have listened to one in the past month. That's a significant change from the 11 percent who 10 years ago reported listening to a podcast in the past month.
"I would say this about podcasts: Only do it if it makes sense for you," Effertz said. "It's a lot of effort and a lot of resources to do it so if it's not right for you, don't feel the pressure to do it."
Building a relationship
At Investors Community Bank, headquartered in Manitowoc, Wis., Matt Lemke, senior vice president of banking services, and Laura Wiegert, senior vice president of marketing, started the bank's podcast, "Money Matters with Matt," in 2018.
Instead of investing in equipment, they put their money into air time, collaborating with a local radio station, WOMT 1240 AM.
"As we were kicking around ideas to try to continue to educate our customers and prospects, we thought, 'Boy, wouldn't it be kind of fun if we tried something a little bit different,'" Lemke said.
Investors Community Bank is a $1.5 billion publicly traded institution.
"Money Matters with Matt" airs for five minutes each Friday before bank staff posts it online and promotes it on social media.
"It's geared to anybody who really might want to learn a little bit more about banking," Lemke said. "We never go on there and sell products. We never talk about rates. … We've even referred to the fact that you could get this at other financial institutions, but certainly if you've got questions we'd always be happy to help."
Recorded numbers for the podcast aren't high, Wiegert said, but potentially several thousand more people tune in on the popular radio station.
Once online, "Money Matters with Matt" averages between 10 and 40 listens a week, with 82 at its best. Average engagement on social media is 200 to 300 per episode. One boosted podcast about the move of the bank's corporate headquarters reached 4,100 people.
"That also is the type of topic that receives the best engagement … whenever we talk about our bank; what we are doing and our people," Wiegert said.
The intangible benefit of offering a podcast is brand awareness, Lemke said, and he thinks it's a good tool for community banks.
"People want to have a relationship with somebody they know and trust," Lemke said "A great way to do that is either through video blogs or podcasts or something where you're building that reputation of both the person speaking as well as the bank."