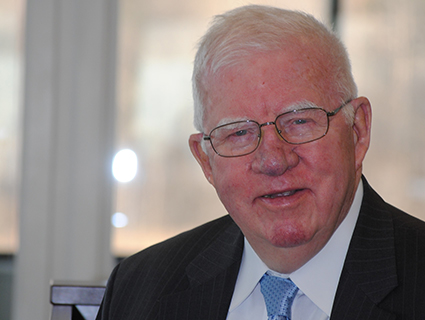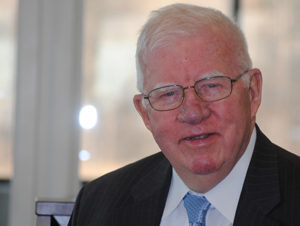 Donald B. Regan, founder and chair of Premier Banks, Maplewood, Minn., died at age 91 on Oct. 23, peacefully surrounded by family.
He founded the bank in 1974 as Maplewood State Bank, which was the smallest of Minnesota's 714 banks at the time with $1.5 million in capital and no clients. Now, Premier's assets are at $1.1 billion, with $123 million in capital.
Regan was an advocate for the banking industry on a large and small scale. He had the courage and tenacity to lobby before — and win over — Congress in 1990 in order to change the laws governing RTC auctions to allow community banks to bid on parts of Midwest Federal Savings and Loan Association's branch network when it failed. The move worked, and launched Premier Bank into the top 10 banks in Minnesota for branch network, up from 87th. 
And he supported his employees with the same indiscriminate fervor. Under Regan's leadership, Premier Bank paid a higher percentage of bonuses to those of lesser pay. In an interview from 2015, when Regan was named BankBeat magazine's "Banker of the Year," he reflected, "I sometimes wonder how those with lower pay make due, the cost of living in this country is so high."
Regan was the kind of banker who, in 2006, scheduled a meeting with the boards and senior staff members of all three Premier Bank charters, along with every regulator who worked with the bank, to discuss the bank's weak spots and prepare for the recession — through which the bank not only survived, but thrived, quickly returning to pre-recession levels by 2014. 
"We at Premier Banks are not pompous," Regan said in a letter from the chair on Premier's website. "Premier Bankers are readily accessible. We don't take ourselves too seriously. We do however, treat our clients very seriously. It is reflected in our client retention and our dramatic, steady growth."
Regan's legacy of generosity and community involvement is too lengthy to list, said bank director Bill Horlitz in 2014. "The integrity of the organization is part of the culture Don inspires," he said. "In spite of all the bank went through, Don always thought about the needs of his employees and the needs of his communities."
Born and raised in LeRoy, Minn., Regan owned a Ford dealership for a time and was also involved in the school and charter bus industry, golf course development and commercial real estate at various points in his life.
He and his wife, Jean, had lived in the same house in North St. Paul since 1959. Regan is survived by his seven children, nearly 30 grandchildren and 12 great grandchildren. He was the fifth child and oldest son of seven children.