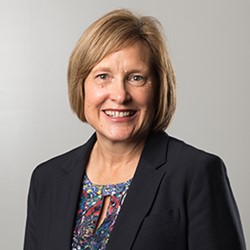 QCR Holdings, Molin, Ill., and Bank First, Manitowoc, Wis., added new directors to their boards of directors earlier this month.
Elizabeth "Libby" S. Jacobs, president of The Jacobs Group, LLC, a Des Moines, Iowa-based consulting firm specializing in the energy and regulated utilities industries, joined the board of QCR Holdings.
Jacobs currently serves on the board of Community State Bank, a wholly owned QCR Holding subsidiary based in Ankeny, Iowa, that serves the Ankeny and Des Moines markets. 
Previously, she served on the Iowa Utilities Board, including four years as chair. She spent 20 years with the Principal Financial Group, serving as community relations director for the last 14 years with the company. 
In addition, Jacobs served seven terms in the Iowa House of Representatives, and was elected by her peers to serve seven years as Majority Whip. She also currently is chair of the Mid-Iowa Health Foundation board and serves on the boards of Goodwill Industries of Central Iowa and the Taxpayers Association of Central Iowa.
She has a Bachelor of Arts degree in political science from the University of Nebraska-Lincoln and a Master of Public Management degree from Drake University, 
"Libby is a proven leader with a diverse business, community relations and public policy background, and she brings a wealth of knowledge and perspective to our board," said Larry Helling, CEO of QCR Holdings. "In addition to founding and running her own consultancy, we have great confidence that her counsel and expertise will prove tremendous assets for QCR Holdings."
Robert W. Holmes, former chair of Timberwood Bank, has been elected to the Bank First board.
Holmes has over forty years of experience in the financial services industry, dating back to 1975 when he founded and served as president and CEO of First Insurance Services. He has served as president, CEO and chair at organizations such as First Insurance Services, Wisconsin Savings Bank, Westland Savings Bank and Westland Insurance Services in Tomah, Wis. In 2003, he founded Timberwood Bank and led the successful acquisition of Acuity Bank branches in 2007, growing total assets from $22 million to over $100 million. 
Outside the financial services industry, Holmes founded and served as a director of Advanced Bio Energy, a $25 million ethanol company. He has also started numerous real estate-based businesses over the years. 
Holmes was appointed by Governor Thompson to serve on the State Savings and Loan Review Board with the Wisconsin Department of Financial Institutions and continues to serve to this day. He has served on the board of Handishop Industries and the Tomah Public Library and has also served on the Board of Trustees for First Congregational Church in Tomah. He has a Bachelor of Arts degree from the University of La Crosse, Wis.