The conditions at banks are strong right now, reports James LaPierre, regional director of the FDIC's Kansas City office. But 2021 will likely bring the industry some troubles, he predicted.
Preparing a bank for the fallout of this pandemic is "like preparing for a hurricane," LaPierre said. Bankers are doing a lot of "watchful waiting."
That's a stark difference from the downturn of 2008-09, when housing and commercial real estate was a huge problem for banks, the regulator said. "This time, things are not as clear."
LaPierre's comments came on the third day of the four-day Bank Holding Company Association's Fall Digital Symposium. Joining the session were: Melanie Hall, chief regulator for the State of Montana and chair-elect of the Conference of State Bank Supervisors; Nathan Perry, associate deputy comptroller of the central distinct of the OCC; Max Zappia, deputy commissioner of commerce for the state of Minnesota, and Christine Gaffney, senior vice president of supervision, regulation and credit for the Federal Reserve Bank of Minneapolis.
The analogy of awaiting a hurricane and its potential devastation resonated with Hall, a native of New Orleans who lived through Hurricane Katrina. "We think of hurricanes as something that happens to someone else," Hall said. 
Federal government stimulus has thus far kept most people and many businesses afloat, Hall said, but trouble will "come to all people eventually. We need to be ever vigilant that it could come to our banks."
Many states have used federal CARES Act funds to help small businesses and keep their economies from faltering. Montana has directed stimulus dollars to pay interest on small business loans, Hall said, effectively "buying people time to get their businesses on track."
Calling the current crisis "different" from past downturns, Perry said the OCC has instructed its people to carry the following message to bankers: Prepare for winter.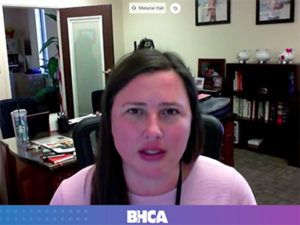 Typically, an early concern when the economy heads south is "will there be a run on the bank?" Perry explained. "People were more concerned about stocking up on toilet paper.
"I've been amazed at how well our banks pivoted, first to remote operations to where we are today," Perry said. OCC exams never ceased, even as banks shut their branches. "We are not behind at all on our examination schedule," he said.
The industry, according to Perry, has not suffered a deterioration in its numbers. There remains a record high number of 1 and 2 rated banks, capital is at an all-time high, and the "industry entered [the pandemic] in a strong way."
Not that vulnerabilities do not exist. "This recession is a credit risk event," Perry said. Credit risk is trending up, and Perry encouraged bankers to continue to work with customers who need deferrals or work-outs. "Not only is it good public policy; it's also a good way to protect bank assets."
The Minnesota economy is being challenged, said Zappia, who reported his agency had reduced assessments and exam rates in 2020. "We are not seeing adverse exam findings," Zappia said, adding that there were no banks being added to its watch list as a result of the pandemic. The biggest concerns in Minnesota are the state of agriculture and commercial real estate, Zappia said. "Almost all CRE will have to see a widespread realignment, with landlords needing to reduce rents by about 20 percent."
Gaffney briefly touched on the Paycheck Protection Program Liquidity Facility, which is being run entirely out of the Minneapolis Fed on behalf of the entire Federal Reserve Bank system. Roughly 20 percent of PPP funds were pledged to the PPPLF. The program, which serves non-depository institutions and fintech companies and has been extended to the end of 2020, has processed more than 14,000 loans through more than 800 entities.