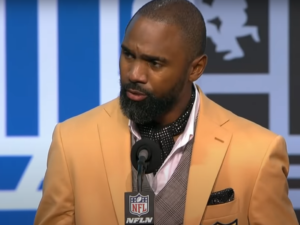 Did you happen to catch Charles Woodson's Pro Football Hall of Fame induction speech? The inductee class of 2021 included some big names such as Drew Pearson and Peyton Manning. But it was Woodson — the Heisman Trophy winning defensive back who began and ended his career with the Raiders but who also wore the green-and-gold for the Packers for seven years — who carried the ceremony with an impassioned speech focusing on family and overcoming adversity.
In one of his first games as a Raider, playing against the Packers, a reporter for the New York Times likened the decision to start Woodson against Brett Favre and Co., akin to "throwing meat to the wolves." Woodson distinguished himself in that game, despite injuring his knee. It was the first of many times Woodson would fight through injury.
His example makes me ponder the source of resilience. Why does a setback turn some people to mush but light a fire beneath others? Researchers say most Americans have suffered at least one significant negative event in their lifetime; yet people respond to these events differently. Some appear to grow stronger, shaking adversity off and moving on, while others develop psychological disorders that range from PTSD to anxiety, depression to addiction.
Differing responses are rooted in two things: Mastery and social support. Mastery refers to the degree to which individuals perceive themselves as having control or influence over their circumstances. A large body of research finds that psychological resilience is generally fostered by caregiving conditions during childhood that are loving, emotionally responsive, consistent and reliable. We should consider this a baseline goal for all children and support the initiatives that meet these ends. 
Woodson spent nearly half his speech thanking the "emotionally responsive" people in his life, starting with his mother, moving to his sister and brother and lifelong friend, and then recognizing his teammates (from high school through the pros), his coaches — even his fans. Success takes a village of support.
Resilience is akin to mental toughness and is a cousin to adaptability; it is a quality with which we should all want to surround ourselves. Hiring managers suggest we ask job candidates about a time when they were angry at work. You read that right. "Ask about a time they were angry, what they were angry about, and how they responded," said Nick Louca of recruiting firm Robert Walters. Recruiters also suggest we put job candidates through role-playing exercises to "test" for resiliency. This likely lengthens the hiring process, but the end result could be worth it if you gain employees who bring mental toughness to their worst days.
Woodson suffered a shoulder injury in one game in 2002, but continued to play. In subsequent seasons, he played through leg injuries; he even continued his career after breaking his leg. Woodson, having been born with a club foot that forced him to use a brace and wear special shoes, likely viewed these injuries as minor inconveniences after long ago mastering a congenital deformity. At the induction ceremony, he closed with these inspirational imperatives: "Love everyone. Give everything. Never doubt. Build your legend."