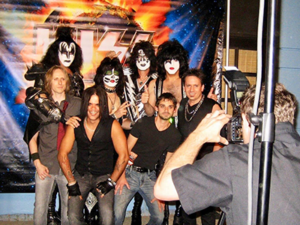 Holding his drumsticks, Kyle Baker peered out at the crowd, absorbing the rhythm of the din. It was mid-summer in 2010, and he and his band, the Superunknown, were backstage at the Riverbend Music Center in Cincinnati, opening for KISS during their "Hottest Show on Earth" tour. The atmosphere shifted when the lights dimmed, and Baker stepped onstage with a rush of energy. 
"You're pouring your heart into something that you love, and sharing it with such a large audience. I'll never forget experiences like that," said Baker, now the vice president of retail management at Community Bank & Trust, Cedar Rapids, Iowa, and one of BankBeat magazine's 2021 Rising Stars in Banking. "If I can play in front of thousands, I can certainly talk to a group of 20 people and maybe help them get their finances in order."
The Superunknown has since dissolved, barring the occasional Facebook message. Before Baker became a banker in 2012, he was in retail management. Managing a variety of clothing retailers and assisting decisions on attire, he learned how seemingly small decisions affect customers on a daily basis. Listening to their stories was vivifying. "It felt like a natural transition into banking." The little steps of saving, whether to pay off debt, purchase a home or save for retirement, "really can impact someone's life. In banking, I get to do all of those things."
Representing Community Bank & Trust, a division of Cedar Rapids Bank & Trust, Baker tours differently: These days he's in front of community members, instructing in the classroom for Junior Achievement in Waterloo, or talking to policymakers with fellow Iowa bankers in Washington, D.C., and Des Moines.
"Unless an elected official was a banker before getting into politics, it's likely they're unaware of some of the complex issues that we face," Baker said. "The reason for advocacy work is we've got to be out there in front of our officials and tell them how certain rules and regulations affect us."
Among Baker's top concerns are the unbanked, or underbanked populations. Some have advocated for the U.S. Postal Service to serve these individuals. "That's not the answer," he said, prescribing more accessible financial services, and getting bankers physically out in the communities helping. "That's on bankers to solve." 
Baker learned fiscal prudence "the hard way," he said, ultimately devoting years and financial diligence to correct his unbudgeted spending. "That's why I'm so passionate about it. If I can share some of the mistakes I made and guide young adults to not make some of the same, then I have succeeded." 
On the board of Junior Achievement, Baker and similarly impassioned coworkers visit schools and companies across Waterloo, sharing the essentials of financial literacy. The bank and its holding company are members of the FDIC's "Bank On" initiative, a program of more than 90 local coalitions that promote low-cost accounts that offer the economic opportunities that come with being banked.
"These skills are crucial, and oftentimes not taught," Baker said. "It's important for bankers to get out in their communities and teach."
Baker's advocacy is also internal. As a strong believer in setting an example, he "motivates team members and generates a passion to move the banking industry forward," said Stacey Bentley, CBT's president and CEO. 
Baker belongs on the $1.8 billion bank's innovation committee, where he scopes for potential technology services. One example is Zelle, a P2P system the bank adopted last year.
Charged with the task to educate the internal team about the new technology, Baker engineered "Money Pass," a game where $5 got sent via Zelle to every team member at the bank. It started with the president, who first "Zelled Baker." The fiver cruised each of the employees' accounts, making pitstops for questions and direction among coworkers, until it made it back to Bentley. The bank then hosted a "Zelle-bration." 
"My whole career, either in retail or banking, I'd worked for larger institutions. I never really felt like I could have much of a voice," Baker said, reflecting on the handful of years spent at Wells Fargo before settling in at CBT. "It was really a complete shift to come over to Community Bank & Trust, and just being part of a team that involved local decisions that impact our market."
Baker laughed thinking back to his days with the Superunknown, which might still get a quarter of a cent royalty when their original songs are purchased on iTunes. Though he traded tattered jeans and eyeliner for khakis and a comb, the drums are still in his basement, poised for occasional use. His 5-year-old son has a drum kit now. We'll see if he becomes a drummer or a banker, Baker said, hoping for the latter. "That's probably a little more responsible career choice."