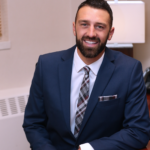 Matt Roghair has joined Iowa State Bank, Des Moines, as vice president and commercial lender. 
Roghair, who joined the bank in August, has more than five years of experience in commercial lending. Previously, he was a vice president with Exchange State Bank, Ames, Iowa.
A graduate of the University of Northern Iowa, Cedar Falls, Roghair has a Bachelor of Arts degree in finance and real estate.
The $478 million Iowa State Bank has five branches in the Des Moines area.