South Dakota banker T. Denny Sanford announced his plans to donate $100 million to the National University System, a nonprofit that focuses on education and philanthropy initiatives.
The gift will increase the reach of National University System's Sanford Harmony program, to 30 million students from less than 2 million. The program helps provide students in PreK through 6th grade with a toolkit of lessons and strategies emphasizing diversity and inclusion; empathy and critical thinking; communication; problem-solving; and peer relationships.
Through the gift, the Sanford Harmony Research Institute will be created with an inaugural class of fellows from leading research institutions, and deliver annual research projects and findings.
"The long-term goals of the program are to ultimately reduce divorce, abuse and bullying and increase cooperation, collaboration, respect and inclusion among all children," Sanford said.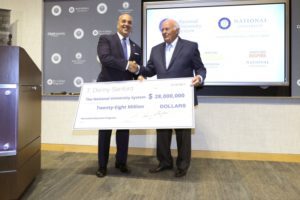 Sanford's donation is the largest in the nonprofit's history and comes a year after Sanford gave $28 million to the network, which supports students looking for alternative ways to learn. The gift brings the nonprofit's funding to about $170 million, including gifts from other donors.
"Denny Sanford is a truly remarkable individual who believes strongly in the power of supportive, collaborative relationships to strengthen families, communities and society at large," said Dr. Michael R. Cunningham, chancellor of the National University System, a network of nonprofit education institutions that serves lifelong learners from PreK to doctoral level "Denny's vision of creating a better world starts with addressing these issues at the youngest ages, and it could not come at a more crucial time when the nation faces increasing challenges in our schools, homes and in the workplace."
Sanford, founder of Sioux Falls-based First PREMIER Bank, is a well-known philanthropist perhaps most notable for donating about $1 billion to the Dakotas-based health system that now carries his name.