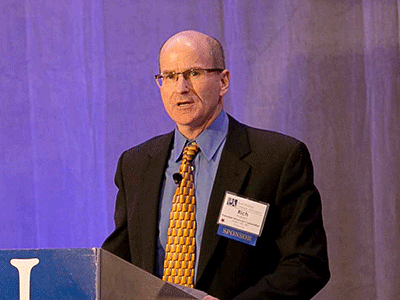 Editor's Note: After 30 years as CEO of Frandsen Financial Corp., Rich Hoban refocused his role to grow the company through acquisition. When the Arden Hills, Minn.-based holding company closed on its acquisition of Peoples Bank Midwest, Hayward, Wis., in early October, Frandsen leaped across the $2 billion-total-assets threshold to become one of the five largest commercial banks in Minnesota. Hoban reflected on the company's acquisition strategy at the Bank Holding Company Association's Fall Seminar, held in October in Bloomington, Minn. Following are his edited remarks.
When I joined Frandsen 30 years ago, it only had five offices, all in Minnesota. It was about $110 million in total assets. All of our growth has been primarily through acquisitions; it's been a successful means for growth for the organization.
Our majority owner, Dennis Frandsen, is a passionate entrepreneur. Besides his presence in the banking industry, Dennis also owns several successful manufacturing companies.
In January, I moved from CEO to director of corporate development where I can focus on acquisitions. I really enjoy doing that. We intend to continue to acquire quality community banks. Earlier this year we completed an acquisition of a small branch from Alerus Financial in the Duluth, Minn., market. 
Because we've been an active acquirer of banks over the years, we [frequently] get contacted by bank brokers. We also go out and call on bank owners and plant the seed early so that if, down the road, they are going to sell their bank and want to talk to a person about bank acquisitions, I'd be happy to visit with them. 
If you look at the list of our bank locations, there's quite a few county seats in there; there's a reason for that. A county seat has got a good economic backbone to rely on. We also like to look at locations where there is either a four-year or two-year college. Universities and technical colleges provide good paying jobs. Also, we look for significant medical facilities, either a hospital or a clinic. We also look at population trends and do an assessment of competitive factors.
We don't do turn-arounds. Some acquirers do a great job of that. Our preference is: Pay a premium and make money from day one. So we're focused on good, strong earning banks, clean asset quality. My preference is for a higher loan-to-deposit ratio. We look for favorable loan mixes that go well with our current portfolio mix. I really look for acquisitions that have DDAs as a high percentage of overall deposits.
We've purchased branches and whole charters. I think a branch sale is probably the toughest transaction followed closely by a branch purchase. A charter is the easiest. The reason that branch deals are a little tougher is you have more documentation involved. Data conversion timing can be really stressful. [With a branch] you have to convert right at closing. If you are buying a charter you have freedom when you want to do that conversion. 
With Peoples Bank, we aren't going to do the data conversion until next October. We are going to have them as a separate charter under our holding company. It makes life easier.
We've primarily done bank stock purchases from holding companies. In the last 15 years, I think only once did we consider doing a merger and that was when we were looking at buying a C corp bank. But that transaction didn't materialize. I think we'll stay on track and just buy bank stock from holding companies. 
We talk [to regulators] fairly early on, in concept. We don't disclose the bank name, but talk in generalities about asset size, impact on capital, impact on earnings. We try to get them involved early on without necessarily disclosing the target. We don't do that until we have a purchase agreement signed.
Frandsen prepares its own regulatory applications. We've done dozens of acquisitions and we have this application process down pretty well. It keeps our transaction costs low and our shareholders like that. We also have standing relationships with our regulators and that helps the application process go smoother. We appreciate those relationships with them. We have not had an application delayed or denied. It's always been a smooth process. 
We always have the seller have a private meeting with their employees. That's a very important meeting, and an emotional time. It's hard for ownership and management. We let them make their announcement to staff, then a public announcement is made. Once it's publicly known, we will immediately come in with our management team and explain who we are, answer any questions, and really try to provide a roadmap for what employees will see over the next 18 months. It lowers anxiety levels.
We tell the employees, "You guys are the bank." We don't have a team of people who swoop in and are going to take their jobs away. We are staff lean. We don't have access to people waiting around to help implement a transaction. So we tell them right away that we're counting on them to be there from day one, doing the job they've done for all these years for that successful institution. 
The two most important things in any transaction are credit quality and culture. If one of those two things is missing, we're probably going to say thanks for the opportunity, but we're probably going to move on. Occasionally, you don't get a sense for culture until you get in to do outside due diligence. And that's where you get a chance to interact more frequently with management — key people who are in the inner circle with knowledge of the transaction.
Changing a culture is like rolling a boulder up hill. It's tough work; it's exhausting. It's much better to make sure you have the fit up front.
You also get a sense for culture by looking through the loan files. You get a sense for how they look at credit. If cultures don't match up, those key people who created that bank's earnings are probably going to leave you anyway. At that point, your transaction costs go through the roof. 
If these things aren't matching up, you are in for a tough time.